—Governors Abbott, Ducey, Noem, DeSantis, Kemp, McMaster, Ivey, Dunleavy, Hutchinson, Little, Reynolds, Reeves, Parson, Gianforte, Ricketts, Burgum, Stitt, Lee, Cox, Gordon, Holcomb, DeWine, Sununu, have already expressed opposition to the mandate
However, most of these politicians are weak, compromised, or just grandstanding. I want to find ONE who will go the distance in resisting the mandate. ONE who will rally all the people who are awake and can see the tyranny we're facing
by Jon Rappoport
September 13, 2021
(To join our email list, click here.)
First, an important note to the reader: In the coming days, weeks, and months, you're going to hear many people saying the Biden vaccine mandate is unconstitutional and illegal. I agree. But that doesn't mean this argument will fly in court. It certainly doesn't mean this is the only road to pursue against the mandate. Do not be fooled into sitting back and blithely thinking legal arguments will win the day.
A lawyer or a politician saying there is a good legal case to be made is a far cry from actually filing the case. Filing a case is a far cry from obtaining an approval for the case to be tried in court. A court trial is a far cry from securing the ability to present all the relevant evidence to a judge. Presenting all the evidence to a judge is a far cry from gaining a victory. A victory often means the enemy appeals to higher courts. And one must always suspect judges are incompetent, fearful of siding with the truth, or bought-off…
---
Governors:
The Biden edict forces employers across America to mandate the vaccine to their employees.
Many of you immediately responded, saying or implying you're going to court, to challenge the legality of the mandate.
Fine. Go ahead. Yes. But you know and I know this approach is not nearly enough. Regardless of the Law, there is reason to doubt a successful outcome for you and the people of your state in a lawsuit against the federal government. That's the reality on the ground. Putting all your eggs in that basket would be a major mistake. DO NOT PUT ALL YOUR EGGS IN THAT BASKET.
Doing so would signal that you're not completely serious about standing up against the vaccine mandate. It would signal you're taking the easier way out.
You can go to court, but you also have to take a different and more severe approach. Otherwise, you fail. And you fail the people of your state.
You have to say: I'M NOT GOING TO ENFORCE THE FEDERAL VACCINE MANDATE IN MY STATE. THERE IS NO WAY THIS STATE GOVERNMENT IS GOING TO COMPLY.
You need to use your bully pulpit and hammer home this message to the people EVERY SINGLE DAY. I mean that literally. Every day.
No matter what courts decide at your state level or the federal level, no matter what tyrannical laws your state legislature enacts, over your veto, you WILL NOT ENFORCE THE FEDERAL VACCINE MANDATE.
If you're really serious, and not just pretending to be, that is what you have to say.
No matter what.
You have to speak to the people of your state every day, bluntly and forcefully, and gain their trust and their support. In order to keep your state open and free.
What will be the consequences of your actions?
Will the federal government send in the FBI to arrest you? Or troops to arrest you, to put the state under federal martial law?
Does the federal government really want to do that? Will that really aid their cause? Think it through. If the federal government dares to invade your state, in any fashion, their actions will backfire. The people of this country will see the true face of the federal government tyranny.
We're in an extreme crisis here. Your solution has to go the distance. It can't be a symbolic gesture. It can't only be, "The Constitution is on our side." That's a true statement, but it's not enough.
You have to come to know that. Quickly.
A medical-fronting dictatorship has taken over America.
Your path is clear:
"I WILL NOT ENFORCE THE FEDERAL VACCINE MANDATE IN THIS STATE. THIS STATE GOVERNMENT WILL NOT ENFORCE IT, NO MATTER WHAT. LET THE FEDERAL GOVERNMENT TRY TO ENFORCE IT. THIS STATE IS FREE."
---
Now, Governors, let's get down to a few details.
How does the federal government plan to enforce this vaccine mandate? In other words, how will they collect the fines they impose on employers who refuse to order their employees to get vaccinated?
Ultimately, if employers won't hand over the fines, it's obvious the feds will eventually go into the employers' company bank accounts and extract those fines. In the same way the IRS can collect supposedly delinquent taxes or garnish wages, when it decides it's necessary, the federal government will set up a mechanism to grab the fines.
This means the federal government can ignore you, the Governors, and lay their hands on the money.
Therefore, the crisis deepens.
Nevertheless, you must continue to use your bully pulpit as I've described above. You're voicing an idea to the people of your state: RESIST. DON'T COMPLY. STAY FREE. This is your job. This is not like selling shoes or mattresses. You're communicating the best and greatest political principle ever devised. FREEDOM.
The results of your ceaseless campaign? Some people will be inspired and rally to your side. Others won't. The results will be uneven and unpredictable. No one can guarantee an ultimate outcome.
You're essentially promoting civil disobedience, to use the polite term. You're promoting LIBERTY and RESISTANCE. We're in a new 1776.
If you pull your punches, if you bloviate on and on about going to court, if that becomes your main message, you will lose, and the people of your state will lose.
"THESE are the times that try men's souls. The summer soldier and the sunshine patriot will, in this crisis, shrink from the service of their country; but he that stands by it now, deserves the love and thanks of man and woman."
Thomas Paine's words ring true again. You must exemplify them and serve our country.
You must find the passion within yourselves to rally the people to your side and the side of freedom.
NOW.
Will ONE of you go all the way?
---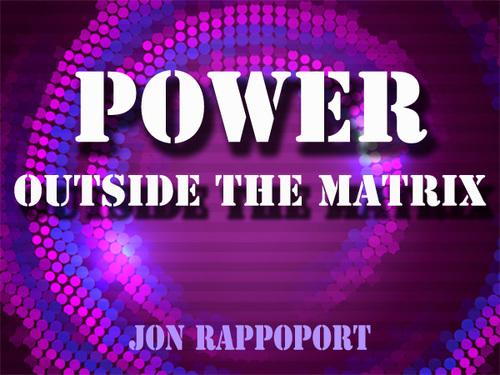 (To read about Jon's collection, Power Outside The Matrix, click here.)
---
Jon Rappoport
The author of three explosive collections, THE MATRIX REVEALED, EXIT FROM THE MATRIX, and POWER OUTSIDE THE MATRIX, Jon was a candidate for a US Congressional seat in the 29th District of California. He maintains a consulting practice for private clients, the purpose of which is the expansion of personal creative power. Nominated for a Pulitzer Prize, he has worked as an investigative reporter for 30 years, writing articles on politics, medicine, and health for CBS Healthwatch, LA Weekly, Spin Magazine, Stern, and other newspapers and magazines in the US and Europe. Jon has delivered lectures and seminars on global politics, health, logic, and creative power to audiences around the world. You can sign up for his free NoMoreFakeNews emails here or his free OutsideTheRealityMachine emails here.