by Jon Rappoport
(To join our email list, click here.)
Continuing my "greatest COVID hits" articles. To read my introduction to this ongoing series, go here.  To support my work and get value for value, order My Matrix Collections here and subscribe to my substack here.
March 13, 2020 [Note: The day America 'locked down'.]
Some people, even if they have fallen over a cliff, would, on the way down, shout: "The virus must be dangerous! What else could it be?"
"People are dying! It's got to be the virus!"
How about this? "The ICU hospital wards in Italy are overflowing. It's the virus."
Step back and think. THINK IT THROUGH.
Watching a recent interview with an Italian public health official, I had the impression that perhaps several thousand new ICU patients were burdening the hospital system in the northern part of the country. Several thousand out of a national population of 60 million.
Here's the trick. Before the announcement of the coronavirus epidemic, people who showed up at those hospitals, with flu, flu-like symptoms, lung infections, pneumonia would be placed in the general wards and treated, or even sent home with drugs.
But now they would, many of them, be called "presumptive cases" of coronavirus, without any tests at all, or after tests which don't work (see my prior articles on why the diagnostic tests are useless and deceptive). By labeling these patients "contagious coronavirus," the hospital doctors are forced to send them to the ICU, to "protect others from the infection."
Thus, these ICUs are crowded and overflowing.
The press publishes pictures of the ICUs and the hysteria factor bubbles up a few degrees hotter.
The press interviews a hospital doctor, and he says, "We're starting to see a few more children with the virus." The public reaction? "Incredible! Now even healthy children are getting sick!" I have breaking news. Children do get sick. Like adults, they develop flu-like symptoms. And as with adults, they can now be diagnosed as "presumptive coronavirus cases."
"But what about people dying in Italy?" As in other countries, people in Italy do die. They always have. Especially old people, who have all sorts of long-term health problems. Labeling them with "coronavirus" at the last minute doesn't explain the cause of death.
"Healthy people in Italy are dying." Two points here. First, sometimes these healthy people aren't really healthy at all. And second, if you were healthy, and you were suddenly diagnosed, for no reason, with a virus you believed was dangerous and even deadly, and then you were isolated in an ICU ward, allowed no visitors, perhaps even put on a ventilator, and then treated with highly toxic antiviral drugs, do you think there is a chance you would die?
The whole aim of stage magic is, as we all know, deflection of attention. The audience is guided to look HERE, while the trick is being executed THERE. Here, a woman is being sawed in half. There, she is escaping from the back of the box.
In the "epidemic," HERE is where people are sick and dying and diagnosed. THERE is where a fictional reason is being cooked up to explain why.
"But…but…Italy, Italy, Italy, people dying, virus, virus…I don't get it…"
Yes you do. You're getting the message the public health officials want to shove into your mind. You're standing on a street corner watching a pro execute his shell game, and you're falling for it every time.
---
These "Greatest COVID Hits" Series Of Articles are archived under the category Covid Revisited
These articles — at the time of original publication — are archived under the category Covid
---
(Episode 38 of Rappoport Podcasts—"The Wizards of Is: The titanic operation to bury the creative impulse forever and never let it out into the light of day. You may think this has nothing to do with you, but you would be wrong. The entire history of traditional Western philosophy makes no mention of individual creativity—this is called a CLUE"—is now posted on my substack. It's a blockbuster. To listen, click here. To learn more about This Episode of Rappoport Podcasts, click here.)
---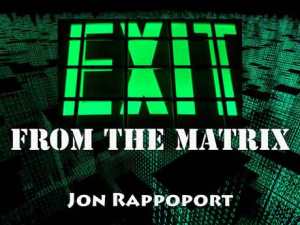 (To read about Jon's mega-collection, Exit From The Matrix, click here.)
---
To read Jon's articles on Substack, click here.
---
Jon Rappoport
The author of three explosive collections, THE MATRIX REVEALED, EXIT FROM THE MATRIX, and POWER OUTSIDE THE MATRIX, Jon was a candidate for a US Congressional seat in the 29th District of California. He maintains a consulting practice for private clients, the purpose of which is the expansion of personal creative power. Nominated for a Pulitzer Prize, he has worked as an investigative reporter for 30 years, writing articles on politics, medicine, and health for CBS Healthwatch, LA Weekly, Spin Magazine, Stern, and other newspapers and magazines in the US and Europe. Jon has delivered lectures and seminars on global politics, health, logic, and creative power to audiences around the world. You can sign up for his free NoMoreFakeNews emails here or his free OutsideTheRealityMachine emails here.