Finding my voice and a future; the strange trip and the heroes
by Jon Rappoport
May 10, 2022
(To join our email list, click here.)
I've wanted to do this one for some time.
The beginning. 1982. Going from writing fiction and poetry to journalism in the blink of an eye, with the recommendation of my friend, LA Weekly writer Rockie Gardiner.
And after that, nothing was the same again.
So go to my substack page, throw in a few bucks, subscribe, and listen. Your support makes all the difference.
I explore a number of issues as I tell stories in this podcast. What is journalism supposed to be about? What were editors telling me? What was I advised about "the dead end" called investigative reporting?
The world of news is filled with strange characters, and now and then heroes show up. People who pass on a piece of crucial advice, put a piece of boggling evidence on the table, force you to evaluate what you're really doing. Relentless people who don't back down.
I talk about these people. I give them their due.
For example, Bill Perry, one of my earliest interviews in 1982. Bill fought his way to top of the food chain in the public relations field, and then one day walked out on the whole show. I can still remember, all these years later, how he told me that story. How he explained WHY he quit the game. You don't forget moments like that, no matter how many years pass. You don't forget something called morality.
There was a story I wrote in 1984, about nuclear security at the upcoming Olympic Games in Los Angeles. And after publishing it in a major magazine, I decided I had to tell somebody about what I'd found. The lack of security, and the potential threat. But who the hell do you talk to about that? Who can you trust?
As I was recording the podcast, I remembered the whole episode. So I describe it. Me, trying to deal with the federal government.
I discuss the field of so-called alternative journalism, as it was then—and still is, to a degree, now. I was mostly writing for those alternative outlets, but I discovered there were limits to what they wanted to cover. And there was the boredom, too.
The mind and soul numbing boredom of taking writing assignments that were so limited, I might as well have been working for the Washington Post. What are you supposed to do about THAT?
It was a key turning point for me. The fact is, every reporter is supposed to experience that exhaustion. Yes. Because it then forces him to make a decision about WHY he's doing what he's doing.
And then he takes one of two roads. He either gives in, or he goes further OUT. In my case, I lit the fuse on an explosion that is still reverberating for me.
In the podcast, I discuss my first flash of education about toxic corporate chemicals and life-destroying vaccines—a lesson that came from the unforgettable Ida Honorof. NO ONE who's ever met Ida forgets her.
She was about 4 feet 10, about 50, skinny, with gray hair, when I ran into her in Los Angeles. A non-stop fireball. It took her about a minute to press into my hands a large sheaf of documents revealing corporate knowledge of pesticides resembling deadly Agent Orange. She commanded me to go home and read the documents. I obeyed. You could say my mind was then permanently blown.
I tell the story of another relentless character who came out of nowhere and practically forced me to go on the radio and reveal what I was finding out about AIDS. He told me he'd been Lenny Bruce's agent. I think he pretty much existed on nuts and seeds. In his forties, he looked fit enough to get in the ring and fight for a world title.
These are people the normal world would retreat from. People who single-mindedly pursue a course of action whose limits are only defined by THEM.
They teach you something. Something realer than real.
In this podcast, I do my best to give you the shapes, the colors, the people, the decisions, the sensations of FINDING A WAY in a profession that, despite its claims about "the free press," doesn't want to make room for a writer who breaks the rules—
—Which ultimately led me to start a one-man news outlet 22 years ago.
But I did that only after having gone through some important years of grabbing a seat in the journalism bus and taking the ride.
Have a listen to the podcast. I believe you'll find something valuable there.
— Jon
---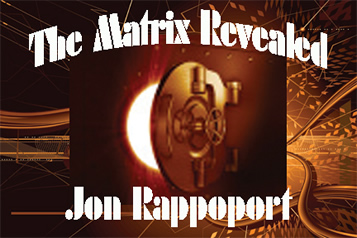 (To read about Jon's mega-collection, The Matrix Revealed, click here.)
---
Jon Rappoport
The author of three explosive collections, THE MATRIX REVEALED, EXIT FROM THE MATRIX, and POWER OUTSIDE THE MATRIX, Jon was a candidate for a US Congressional seat in the 29th District of California. He maintains a consulting practice for private clients, the purpose of which is the expansion of personal creative power. Nominated for a Pulitzer Prize, he has worked as an investigative reporter for 30 years, writing articles on politics, medicine, and health for CBS Healthwatch, LA Weekly, Spin Magazine, Stern, and other newspapers and magazines in the US and Europe. Jon has delivered lectures and seminars on global politics, health, logic, and creative power to audiences around the world. You can sign up for his free NoMoreFakeNews emails here or his free OutsideTheRealityMachine emails here.