by Jon Rappoport
April 15, 2021
(To join our email list, click here.)
In the city of Poreattle, it was all police lieutenant Eddie Lace's fault. He dreamed up the scheme during the third straight night of riots, in which two citizens were shot and killed, four cops seriously injured, and more than dozen stores torched and burned to the ground.
Eddie had intelligence reports on local Antifa leader, Martin Jackson. He had met with him several times, and knew Jackson had insights into "the new revolution."
So Eddie had four of his men go to Jackson's home, wait for him to return from the burning and looting, and grab him as he was getting out of his car. They brought him to a small cottage on the outskirts of the city.
Guarded by the four men, Jackson sat in the living room, where a hidden camera was already rolling. A live stream was going out online.
Eddie walked into the room and sat down.
—Lieutenant, what am I doing here? Lost your mind?
You're a smart guy, Martin. I wanted to have a meeting with you, because I hope we can set up some rules of engagement.
That's not going to work, Eddie. There are no rules.
You're smarter than that. Two sides can always come up with something beneficial…
You mean a compromise. No dice.
(At this point, a computer tech at a local TV station caught the live stream, quickly alerted the station manager, who, eager for ratings, decided to interrupt a cooking show and pick up the stream and send it out to viewers. A larger network, sensing the possibilities, cut into its own sports talk program and picked up the stream as well and beamed it to its audience.)
Everybody compromises, Martin. Come on. There are certain venues you wouldn't dare touch, right? They're off-limits. Your bosses wouldn't appreciate seeing them burn to the ground.
Bosses? What the hell are you talking about?
You mean you exist on penny-ante donations? Antifa is just doing charity work?
"Antifa isn't an organization, it's an idea."
Good one. One of my men who's in the hospital right now was hit with an idea. What I was hoping to do, Martin, was set up boundaries in the city. You can operate in a couple of spaces, but nowhere else.
Forget it.
Where did you go to school, Martin? Stanford?
Columbia.
That's right. It slipped my mind. You majored in animal husbandry.
Journalism and political science, Eddie.
You read the speeches of Martin Luther King.
This isn't MLK or even Malcolm, Eddie. This is burning everything down. Don't try to put that civil rights stuff on us. That's for old men who live in the past. They think we're trying to earn our piece of the American dream. Useful idiots.
I guess I'm behind the curve.
You're not even on the map. When we finish off the country, we'll start over from scratch and build a different one.
From the ashes.
There's no other choice.
So you're not going to be making any appeals to Joe Biden.
He's lucky if he can find his way from the shower to the bedroom. He's rotting like a banana out in the sun.
When Kamala takes over, maybe you'd like to sit down with her.
She's just another hungry politician. A better puppet. Wise up, Eddie. We're doing a squeeze play. A pincer movement. Can't you see it? Or are you just another dumb cop?
You're talking about COVID plus your riots.
Good boy. Very good. Lockdowns on one side, riots on the other. Keep people bottled up in their houses. Huddled masses, yearning for food delivery.
The economy's starting to open up.
Temporarily. But there's another wave coming. We're just getting started.
You're the shock troops. If the courts and politicians don't fall in line with what your bosses want, you burn down things. It's an old game, Martin.
Stop with the "bosses."
Some of the richest people in America are backing your action.
You don't know what you're talking about.
A smart guy like you, Martin, and you don't even know you're Rockefeller socialist.
This is what you brought me here to talk about?
The men you think you're bringing down are funding your operation. It's a joke.
You're just bitter because your department is being defunded.
Speaking of maps, I could show you fifty big houses in the Roman Hills District—if you attacked them, money would start flowing right back into the police again.
Let me ask you this, Eddie. Who authorized you to make a deal with us? To stage riots in a few select areas.
Chain of command. But the order came down from the Mayor.
The Mayor is willing to sacrifice, say, the commercial area we hit tonight?
Part of it. The low end. Not the expensive shops. Not the box stores.
And if I agreed, my people would be working with the city to destroy a piece of Poreattle.
You could look at it that way. The Mayor wants to limit the damage.
And how about an added payoff? Could we get a line item in the city budget?
A "take a knee" item?
Sure. Why not? Let's make it official. Antifa is hired to perform demolition, as phase one of the city's renewal program.
"Antifa has been awarded a contract to help gentrify older sections of downtown. A new department store bearing its name will be built on the site of former run-down blocks."
Okay, Eddie, can I go home now? I want to catch the eleven o'clock news.
So you're sticking with your agenda of razing the whole city.
Wouldn't you, if you were me?
That's the thing, Martin. Who are you? Columbia University graduate in journalism and political science. Let's see—wrote an undergraduate dissertation on the 1968 Chicago riots at the Democratic National Convention. Lived in Detroit for three years. Married a schoolteacher, separated. Questioned but never charged—cocaine possession with intent to distribute, arson, burglary. Then you show up in Chicago on some kind of traveling fellowship from the Taice Foundation. You're hanging out with hard cases in the Southside Cobras, who distribute heroin for the dregs of the Sinaloa Cartel. You send a few of those boys to Poreattle to set up shop, while you make a quick trip to Hong Kong and Huainan on the Chinese Mainland. You arrive here two years ago, and your Taice fellowship is renewed. Taice is a conduit for George Soros money, and also receives grants from the Human Ecology Group, which was once a front for the CIA. We have local files on your gang pals from Chicago. Seems they're out in front, leading several riots here in the city. When pressed, they identify themselves as community organizers. And one more dime: the Mayor's sister sits on the Taice Foundation Board. She's an attorney. She once helped clear the way for a Presidential pardon of Sally Roth, who was serving a 40-year sentence in federal prison, in Lexington, Kentucky, for planting a bomb in the US Capitol Building in 1986. You've met with our Mayor on at least two occasions. The first time was at a small dinner party at her home, last spring.
You're a busy boy, Eddie. All that amounts to a circumstantial case building up to a charge of nothing.
Just trying to figure out who you are and what connections you're leveraging.
I'm a citizen fighting for the rights of the oppressed. I came to the conclusion that all the usual channels of appeal run into brick walls.
And those rights will be won after you burn down the country.
If that's what it takes. I find friends and supporters where I can.
Like the Taice Foundation, a billion-dollar operation. Their main guiding lights come from a few of the richest families on the Upper East Side of New York and Southampton.
As I said, I find supporters wherever—
And you're using them. They're not using you.
Why would they use me? They're the moneyed class. They feel guilty. They give away cash to people like me, to assuage their guilt.
You really think so, Martin? For the last hundred years, people like them have been buying people like you.
That's ridiculous.
They want more control than they already have. They won the capitalist game and turned around and decided that no one else would win. They want all the power at the top. Call it what you want to. Socialism, Communism, Fascism, the Corporate State. They want to destroy and then rebuild everything below them so they can rule it all from the castle on the mountain. You're doing their work for them. You're a foot soldier in the Great Reset.
Bullshit.
Somewhere in there, Martin, you might have a few good motives—in addition to being a con artist and a hustler and, now, a career criminal. But you're a pawn in their game. That's all. They don't feel guilt. In private, they laugh at you. Let me give you some of their names. The Moran Graemeness family of Wilmington, Delaware. The Ferry-De Housetelers of Greenwich. The—
THE ONLINE AND TELEVISON LIVE STREAMS WENT DARK.
The conversation between the two men continued—
Okay, Eddie, suppose I imagine that I'm an agent. I drank the Kool-Aid. I took the bait and the money. Without knowing it, I ended up working for the ultra-rich. What makes you think I'm the only one?
Meaning what?
What about the other side? The extreme right-wingers. You don't think they're working for somebody, too? Some of them?
The thought's crossed my mind.
It should.
In that case, Martin, we would be talking about knowing and unknowing agents planted in the ranks of Left and Right, white and black…
Yeah, we would be talking about that. Let's say, just for the sake of argument, that you and I are both being fooled on some level.
One of us could end up shooting the other.
I don't like to imagine this war between us is synthetic, cooked up.
Nobody likes the idea of being caught up in the middle of a con.
A long con.
Here's something else to think about, Martin. We've got "defund the police." We've got the Southern border of the country operating like a sieve. We've got the COVID restrictions for the past year. All those people locked up in their houses, going a little nuts. What do they want? Drugs. Who can come across the border like it's a walk in the park? Drug traffickers. Defunding the cops means it's a lot easier to sell drugs. The Antifa actions against the cops—what's that distracting attention from? Gangs in the black communities. What do those gangs do? Sell drugs for the cartels. Drugs are a trillion-dollar business. Who makes out like a bandit besides the cartels? The banks that wash the drug money. Who are the ultra-rich connected to? The banks.
So…like they say, who benefits?
And like they say, follow the money.
This is why you brought me here, Eddie? To talk about this?
I hate you. You hate me. We go to war. The big money makes more money. The country goes down the toilet. You want to be a hero, I want to be a hero, but we're pawns on the board when we step back and look…
I want to go home and get drunk and forget all about this conversation.
But you're too smart to forget.
So what do we do?
We keep talking. We put more pieces together.
Something's not right.
Or left.
Something's playing both sides against the middle?
It's an old game. It wouldn't be the first time…
---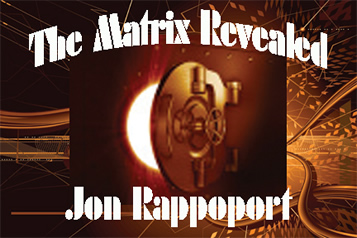 (To read about Jon's mega-collection, The Matrix Revealed, click here.)
---
Jon Rappoport
The author of three explosive collections, THE MATRIX REVEALED, EXIT FROM THE MATRIX, and POWER OUTSIDE THE MATRIX, Jon was a candidate for a US Congressional seat in the 29th District of California. He maintains a consulting practice for private clients, the purpose of which is the expansion of personal creative power. Nominated for a Pulitzer Prize, he has worked as an investigative reporter for 30 years, writing articles on politics, medicine, and health for CBS Healthwatch, LA Weekly, Spin Magazine, Stern, and other newspapers and magazines in the US and Europe. Jon has delivered lectures and seminars on global politics, health, logic, and creative power to audiences around the world. You can sign up for his free NoMoreFakeNews emails here or his free OutsideTheRealityMachine emails here.