by Jon Rappoport
Here are a few key quotes from an introduction I wrote to my collection, Exit From The Matrix. This collection contains over 50 exercises designed to increase the individual's creative power:
"There is a non-material faculty called imagination. If that is stimulated, perception immediately expands."
"With imagination, one can solve a problem. More importantly, one can skip ahead of the problem and render it null and void."
"Imagination isn't a system. It might invent systems, but it is non-material. It's a capacity. It feels no compulsion to imitate reality. It makes realities."
"Here is the secret about time. There is always a gap, a discontinuity between the past and present. Why? Because you and your vision and action are that gap. It is always there, in the same way that a blank canvas is always there for the painter. Time doesn't invent you. You invent time."
"I'm not breaking a system into parts. I'm not trying to teach a person how to tie his shoes. I'm talking about the proliferation of endless new worlds, not seen through a porthole, but imagined and invented."
"Feelings are considered to be internal human structure and architecture. But what you imagine and create are far more important—and the creative process radically and naturally changes feelings in a positive way, as a side effect."
"The cells of your body respond as you imagine and create a vision of your life and future. That's when the cells really come into their own, that's when they bathe in new energy."
Here are the full contents of my mega-collection Exit From The Matrix. You can order it here:
---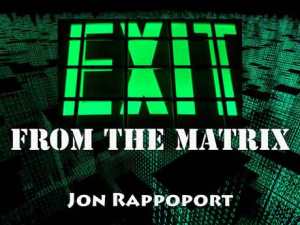 ---
Here are the contents of my collection, Exit From The Matrix:
First, my audio presentations:
* INTRODUCTION: HOW TO USE THE MATERIALS IN EXIT FROM THE MATRIX
* EXIT FROM THE MATRIX
* 50 IMAGINATION EXERCISES
* FURTHER IMAGINATION EXERCISES
* ANESTHESIA, BOREDOM, EXCITEMENT, ECSTASY
* ANCIENT TIBET AND THE UNIVERSE AS A PRODUCT OF MIND
* YOU THE INVENTOR, MINDSET, AND FREEDOM FROM "THE EXISTENCE PROGRAM"
* PARANORMAL EXPERIMENTS AND EXERCISES
* CHILDREN AND IMAGINATION
* THE CREATIVE LIFE AND THE MATRIX/IMAGINATION
* PICTURES OF REALITY AND ESCAPE VELOCITY FROM THE MATRIX
* THIS WOULD BE A VERY DIFFERENT FUTURE
* MODERN ZEN
* THE GREAT PASSIONS AND THE GREAT ANDROIDS
Then you will receive the following audio seminars I have previously done:
* Mind Control, Mind Freedom
* The Transformations
* Desire, Manifestation and Fulfillment
* Altered States, Consciousness, and Magic
* Beyond Structures
* The Mystery and Magic of Dialogue
* The Voyage of Merlin
* Modern Alchemy and Imagination
* Imagination and Spiritual Enlightenment
* Dissolving Stress
* The Paranormal Project
* Zen Painting for Everyone Now
* Past Lives, Archetypes, and Hidden Sources of Human Energy
* Expression of Self
* Imagination Exercises for a Lifetime
* Old Planet, New Planet, New Mind
* The Era of Magic Returns
* Your Power Revealed
* Universes Without End
* Relationships
* Building a Business for Success
I have included an additional bonus section:
* My book, The Secret Behind Secret Societies (pdf document)
* My book, The Ownership of All Life (pdf document)
* A long excerpt from my briefly published book, Full Power (pdf document)
* My 24 articles in the series, "Coaching the Coaches" (pdf document)
And these audio seminars:
* The Role of Medical Drugs in Human Illness
* Longevity One: The Mind-Body Connection
* Longevity Two: The Nutritional Factors
(All the audio presentations are mp3 files and the documents and books are pdf files. You download the files upon purchase. There is no physical ship.)
What has been called The Matrix is a series of layers. These layers compose what we call Reality. Reality is not merely the consensus people accept in their daily lives. It is also a personal and individual conception of limits. It is a perception that these limits are somehow built into existence. But this is not true.
What I've done here is remove the lid on those perceived limits. This isn't an intellectual undertaking. It's a way to open up space and step on to a new road, with new power.
Jon Rappoport
The author of three explosive collections, THE MATRIX REVEALED, EXIT FROM THE MATRIX, and POWER OUTSIDE THE MATRIX, Jon was a candidate for a US Congressional seat in the 29th District of California. He maintains a consulting practice for private clients, the purpose of which is the expansion of personal creative power. Nominated for a Pulitzer Prize, he has worked as an investigative reporter for 30 years, writing articles on politics, medicine, and health for CBS Healthwatch, LA Weekly, Spin Magazine, Stern, and other newspapers and magazines in the US and Europe. Jon has delivered lectures and seminars on global politics, health, logic, and creative power to audiences around the world. You can sign up for his free NoMoreFakeNews emails here or his free OutsideTheRealityMachine emails here.