by Jon Rappoport
April 2, 2020
(To join our email list, click here.)
Update: something is blocking the link to my new audio series: Just after we sent out the link to my new audio series, THE CREATION OF A FALSE EPIDEMIC, we saw the link to those audios was loading very slowly. Readers wrote me saying the link wouldn't work at all. Something is blocking the link. We're trying to unblock it. Keep checking the link. I'm still here, giving you the very best information I can on the false pandemic, in every way I can. Thank you for your support!
Update-2: A version is now available at YouTube at the following link: click here.
Exposing the scam, I've just completed three audio presentations about COVID-19.
They are available at the following link: click here.
With the cooperation of Solari.com and Catherine Austin Fitts, we're making these presentations available to you, and to people around the world.
The series is titled: THE CREATION OF A FALSE EPIDEMIC
Episode 1: HOW IT STARTED
Episode 2: THE MEDICAL CIA, COVERT OPS
Episode 3: THE TRUE GOAL OF THE FALSE PANDEMIC
Readers have been asking how they can help. Listen to the presentation, send out the link to others.
Exposing the COVID-19 covert operation is more important every passing day.
As always, thank you for your support!
Jon
---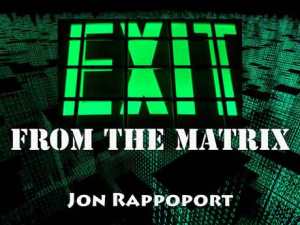 (To read about Jon's mega-collection, Exit From The Matrix, click here.)
---
Jon Rappoport
The author of three explosive collections, THE MATRIX REVEALED, EXIT FROM THE MATRIX, and POWER OUTSIDE THE MATRIX, Jon was a candidate for a US Congressional seat in the 29th District of California. He maintains a consulting practice for private clients, the purpose of which is the expansion of personal creative power. Nominated for a Pulitzer Prize, he has worked as an investigative reporter for 30 years, writing articles on politics, medicine, and health for CBS Healthwatch, LA Weekly, Spin Magazine, Stern, and other newspapers and magazines in the US and Europe. Jon has delivered lectures and seminars on global politics, health, logic, and creative power to audiences around the world. You can sign up for his free NoMoreFakeNews emails here or his free OutsideTheRealityMachine emails here.