by Jon Rappoport
August 6, 2019
(To join our email list, click here.)
I've assembled the quotes below to indicate the future that is coming. The intensity of dissatisfaction with the present continues to spread. Technocrats are already dancing on their own graves. They may think they're celebrating victories, but subconsciously they're experiencing deep anxieties.
The era of limitless imagination is upon us…For most people, it isn't at all real yet. They're locked into the present. But the present is taking wing and sprouting branches and drilling down into the core of creative fire—all at once. It too is a child of imagination.
An artist who has no imagination is a mechanic. (Robert Henri)
Without the playing with fantasy no creative work has ever yet come to birth. The debt we owe to the play of imagination is incalculable. (Carl Jung)
What if imagination and art are not frosting at all, but the fountainhead of human experience? (Rollo May)
Everything you can imagine is real. (Pablo Picasso)
You cannot hear the waterfall if you stand next to it. I paint my jungles in the desert. (Macedonlo de la Torre)
---
Here is an introduction made by the famous astrologer and philosopher, Dane Rudhyar, before a concert of his music almost 40 years ago:
"Thus you find in my music extended chords which provide a definite sense of spacing between notes, notes which are supposed to be in dissonant relationship. These harmonies can be disturbing at first, but eventually you can learn to realize what is their essential purpose; and this purpose is to stimulate you, to arouse you, to break down crystallization, to decondition you from the paternalistic order of the tribal society which still pervades our so-called Christian world. It is to make you live a more intense, creative, transforming type of life.
"It is that kind of music to which you are subjected tonight. I hope that it will bring to you some sort of a realization of a possibility which perhaps you have not been aware of, or confusedly so, in the past. To really help you to live a more intense, a more creative life — this is the purpose I have always had in music, in other arts, or in my philosophy, astrology — indeed in whatever I have done. It is always an attempt to bring the human person away from the old traditional pattern of a classical, set and definite kind of society, and to lead it to new horizons where the creative factor in what really is man can be seen operating in full and glorious freedom."
---
A PAINTING BY PAUL KLEE
All right, so
The tides took cities to the bottom of the ocean. Left on
The surface,
Water, stone, and fire
Much later, the action of your hand
Digging powder from a bowl
Throwing it on the flat dough
When a vase is blasted into dust, an employee heats the dust and makes a plate. Klee finds dust, he arranges it in a line that leads through the next century into a doorway eye of an acrobat who is swinging through motorized waves of a clock. Everything stops. Enormously dissatisfied.
---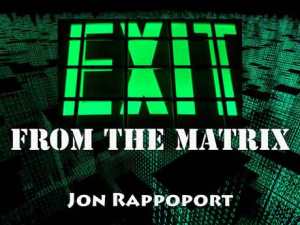 (To read about Jon's mega-collection, Exit From The Matrix, click here.)
---
Jon Rappoport
The author of three explosive collections, THE MATRIX REVEALED, EXIT FROM THE MATRIX, and POWER OUTSIDE THE MATRIX, Jon was a candidate for a US Congressional seat in the 29th District of California. He maintains a consulting practice for private clients, the purpose of which is the expansion of personal creative power. Nominated for a Pulitzer Prize, he has worked as an investigative reporter for 30 years, writing articles on politics, medicine, and health for CBS Healthwatch, LA Weekly, Spin Magazine, Stern, and other newspapers and magazines in the US and Europe. Jon has delivered lectures and seminars on global politics, health, logic, and creative power to audiences around the world. You can sign up for his free NoMoreFakeNews emails here or his free OutsideTheRealityMachine emails here.