(To join our email list, click here.)
by Jon Rappoport
February 18, 2016
(To read about Jon's mega-collection, Power Outside The Matrix, click here.)
The Guardian has the story (Feb. 17): "Zika hysteria is way ahead of research into the virus, says expert."
Here are key quotes:
"One of the world's leading virologists has warned against public hysteria surrounding the Zika virus…"
"Leslie Lobel say[s] the evidence is not yet conclusive. 'It's not clear that what's going on in Brazil is linked to the Zika virus. There's no definitive proof that Zika is causing microcephaly. I believe the hysteria is way ahead of the research or the facts about the pathology surrounding this virus,' he said in a telephone interview."
Boom. This is what I've been demonstrating for the last few weeks in many Zika articles.
So far, so good. Lobel is absolutely correct.
But he then states, "I don't want to downplay this. The association is very compelling, very clear. But we need a lot more work and we need to do it fast."
Wrong. The association of Zika with the birth defect called microcephaly is not clear or compelling. In fact, the research so far shows there is no association.
Brazilian researchers have stated that, in 404 confirmed cases of microcephaly, they've found some "relationship" with the Zika virus in only 17 cases. That's called disassociation. (See "Zika: update from Brazil: towering non-evidence" and "Zika freaka: the other shoe drops: lying about case numbers".)
That's called proof that Zika doesn't cause microcephaly. Top virologist Lobel should know that.
When you're trying to prove that a particular virus causes a particular condition, the first thing you need to do is show that the virus is present in almost all, if not all, cases of the condition.
That standard hasn't been met. The effort has been a complete failure.
"Well, we know Zika causes microcephaly because, in most cases, it's not there at all." That, in effect, is what the Brazilian researchers are saying.
Anyone who hasn't been wrecked by a college or medical school education would catch on right away.
To repeat: the Brazilians could only find a trace of Zika in 17 out of 404 cases of microcephaly.
But it gets worse. Even if they'd found Zika in all 404 cases, the next question is: how much Zika is in each patient?
You see, the "presence" of the virus is not enough. You have to show there is a whole lot of the virus in each patient, because millions and millions of a particular virus are necessary to begin thinking it's relevant, to begin thinking it's doing harm and causing disease.
An analogy: you come across a battlefield scarred by war. The only humans present are a husband and wife repairing their old wooden cart. Ah, you say, they must have destroyed this place. You report this to your superiors, and the next day you find yourself cleaning toilets.
There is no evidence the Brazilian researchers even tried to find out how much Zika was present in the 17 microcephaly cases they claimed "had a relationship to Zika."
The normal (wrong-headed) test in these situations is called PCR. It is prone to errors, but if we assume the test was done, and done properly, it can only reveal the presence of the virus—not how much of it is there. The test takes a tiny, tiny bit of genetic material supposedly belonging to a virus (like Zika) and blows it up, like an enlarged photo, so it can be observed. But why do technicians need to do that test in the first place? Because they can't find a significant amount of virus in the patient to begin with. That's called a clue. It's a clue that there isn't enough Zika in the patient to say it's causing harm in any way. (For one such Zika study out of Brazil that proves nothing, see "First report of autochthonous transmission of Zika virus in Brazil [detected by RT-PCR]" and its associated news story: "Zika virus — a Brazilian perspective on a global health emergency". For further context on the limitations of PCR tests, see "…let the [PCR] test's inventor speak".)
The global hysteria about Zika is engineered. I've explained how and why in previous articles. And now, again, I've shown why it is hysteria, not science.
Researchers want you to believe their work is so technical and advanced that only their colleagues can understand it. Well, wouldn't you play that farce if you were a scientist, if your work was built on sand, and if you were hoping the sand was solid rock?
In investigating dud epidemics for almost 30 years, I've discovered and shown that the entire medical specialty of assessing what causes diseases is false science.
Were this scandal understood and broadly known, the whole house of cards would collapse.
The medical-drug industry would go down. The vaccine industry would go down. Medical schools would be exposed for their outrageous omissions of fact. Public health agencies like the FDA, the CDC, and the World Health Organization would face utter humiliation. Doctors in their offices and in hospitals would find their reputations destroyed. Research labs would fold up.
Public faith in the institution of medicine would crumble.
This is why the scandal is not understood or broadly known. The price to pay would travel to the sky.
In case there is any doubt, let me state this clearly: in disease after disease, researchers have falsely claimed they have discovered the cause. They haven't. Their methods are fatally flawed. They overlook the obvious. They tap-dance around the lies. They jump to unwarranted conclusions.
They do what we see researchers doing now with Zika.
Yes, this is explosive. Yes, it's monumental. Yes, it's mind-boggling. That's right.
It would be on the order of discovering we're all living on Mars and that red planet out there is Earth.
This is why doctors and researchers who actually know what's going on feel protected. They believe the false reality is so huge, no one will challenge it.
Consensus Reality is built, and endures, on that very basis.
---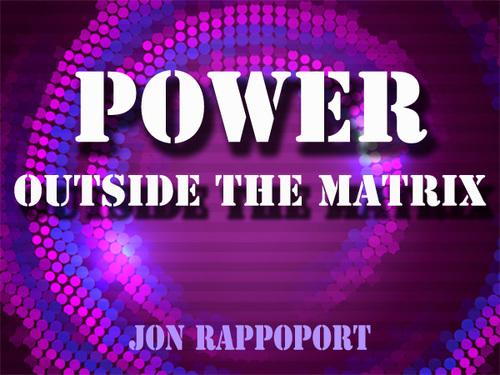 (To read about Jon's collection, Power Outside The Matrix, click here.)
---
Jon Rappoport
The author of three explosive collections, THE MATRIX REVEALED, EXIT FROM THE MATRIX, and POWER OUTSIDE THE MATRIX, Jon was a candidate for a US Congressional seat in the 29th District of California. He maintains a consulting practice for private clients, the purpose of which is the expansion of personal creative power. Nominated for a Pulitzer Prize, he has worked as an investigative reporter for 30 years, writing articles on politics, medicine, and health for CBS Healthwatch, LA Weekly, Spin Magazine, Stern, and other newspapers and magazines in the US and Europe. Jon has delivered lectures and seminars on global politics, health, logic, and creative power to audiences around the world. You can sign up for his free NoMoreFakeNews emails here or his free OutsideTheRealityMachine emails here.