Is consciousness an illusion?
by Jon Rappoport
January 26, 2015
"Cutting through disinformation about consciousness is vital, because neuroscience is moving toward a mind-controlled society, based on the idea that individual awareness is an illusion, and stimulus-response is the key to shaping a new Collective of synchronized 'happy' brains." (The Underground, Jon Rappoport)
A brief historical note: Roughly a century ago, as scientists and philosophers were attacking organized religion, they assumed that science would come to "rule" all knowledge, for the benefit of humanity.
Today, their descendants still believe in the simplistic dichotomy between religion and science:
If science fails to answer a metaphysical question, just wait a while and it will; otherwise, we will be thrown back into the opiate soup of religion, and that must never happen.
This is nonsense.
This either-or approach is fictitious garbage. Religion or science, as the only two choices, is a fraud.
So…here is one of those metaphysical questions:
What is consciousness?
Science has done nothing to explain it. It has tap-danced and speculated and made assurances, but explain it? No.
But here, a famous biologist faces the question head-on:
"How it is that anything so remarkable as a state of consciousness comes about as a result of irritating nervous tissue, is just as unaccountable as the appearance of Djin when Aladdin rubbed his lamp." (Thomas Henry Huxley)
And here a modern philosopher retreats to the conventional position based on zero evidence:
"Above all, consciousness is a biological phenomenon. We should think of consciousness as part of our ordinary biological history, along with digestion, growth, mitosis and meiosis…Conscious states are caused by lower level neurobiological processes in the brain and are themselves higher level features of the brain." (John R Searle, professor of philosophy, University of California at Berkeley)
Lower biological processes somehow "give rise" to "higher biological processes," thus producing consciousness.
This is about as convincing as using your birthdate to buy a lottery ticket.
"Well, you see, we've learned a great deal about lower biological functions, so as we learn more about the higher functions, we'll discover what consciousness is."
Really? If this is logic, an ant is a spaceship.
Consciousness, as Huxley was implying, is a different KIND of reality; it isn't merely atoms bumping into each other or forming structures.
For example, consciousness is you knowing you're reading this page right now. It isn't molecules spitting out a message that "you're reading this page."
Consciousness is you knowing you're alive. It isn't the brain somehow producing the words "you're alive."
Consciousness isn't an illusion. The illusion is supposing the brain knows anything.
Physicists will readily admit that atoms and sub-atomic particles do not know anything. And since the brain is made up of those particles, there is no reason to assume the brain has the capability of knowing. It's a system of systems that operates in wide-ranging ways.
Knowing you're reading this page isn't a brain- message you receive. It's different. It's not reducible. It's not something you can break into small pieces.
You know you're alive.
That consciousness, that awareness, that "act" of knowing is not physical. It's non-physical. It's not made up of particles. It's beyond them.
It's independent.
---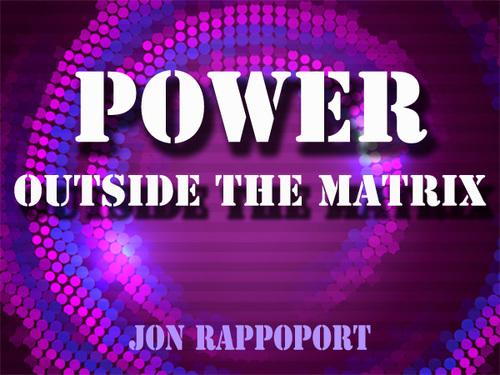 ---
Consciousness isn't a subject for study in a philosophy department or a physics or biology or chemistry department. It doesn't fit into any category.
Is consciousness an illusion? No. The illusion is pretending it's "the brain." The illusion is the selling of a future in which all existence will be controlled by science. The illusion is "a better civilization" in which all brains are "harmonized."
If consciousness is an illusion, then freedom is, too. If consciousness is just the atoms of the brain marching around and delivering pre-determined impulses, then freedom is a hoax.
And, under the surface, this is what neuroscience proposes. "Yes, humans believe in a quaint notion of freedom, but we know that's ludicrous. There is no such thing. It's merely particles in motion…"
While I'm at it, taking the particles-in-motion depiction of life as a first principle…then there is no you, either. There is no you, there is no me, there is no anyone. There is no individual, there is no group. All that is illusion as well.
This is the inescapable conclusion of physics taken to its widest application.
It's also the justification for manipulating the brain in any fashion: since "no one is home," what difference does it make? Nullify a synapse here, rewire a connection there, dose this area with a drug, stimulate those neurons with electromagnetic impulses…and bring about more agreeable obedience.
There are many educated people who refuse to understand that both organized religion and bottomless faith in science lead to tyranny. They lack the imagination and curiosity to explore other alternatives.
Therefore, their ignorance is stunning.
Jon Rappoport
The author of three explosive collections, THE MATRIX REVEALED, EXIT FROM THE MATRIX, and POWER OUTSIDE THE MATRIX, Jon was a candidate for a US Congressional seat in the 29th District of California. He maintains a consulting practice for private clients, the purpose of which is the expansion of personal creative power. Nominated for a Pulitzer Prize, he has worked as an investigative reporter for 30 years, writing articles on politics, medicine, and health for CBS Healthwatch, LA Weekly, Spin Magazine, Stern, and other newspapers and magazines in the US and Europe. Jon has delivered lectures and seminars on global politics, health, logic, and creative power to audiences around the world. You can sign up for his free emails at NoMoreFakeNews.com or OutsideTheRealityMachine.