Ebola hoax: my FOIA request to the CDC
by Jon Rappoport
November 3, 2014
"The Reality Manufacturing Company enjoys creating and selling components that are invisible." (The Underground, Jon Rappoport)
Today, I sent a Freedom of Information Act request to the CDC (Note: On startpage.com, search for "CDC Freedom of Information Act (FOIA) Requester Service Center").
For those of you who've been reading my articles about Ebola (archived here), it'll be self-explanatory:
"This is a request for published records, data, studies, electron microscope photographs, work notes, and internal correspondence relating to and describing, in detail, the direct isolation of the Ebola virus from human beings.
"Note: My request does not seek information on this subject which is derived from antibody tests, PCR tests, or virus cultured and grown outside the human body. Nor does it seek electron microscope photographs which are, in fact, simulations or the result of computer models.
"I am, however, seeking electron microscope photos of diseased human tissue."
That's it.
Of course, I'm not holding my breath. I have no expectations.
But people need to be aware that this is an issue. A vital issue.
Disease hoaxes start at square one, where the fundamental assumptions are made. And one of the first assumptions is: humans who are labeled with a germ-caused disease house that germ in their bodies.
---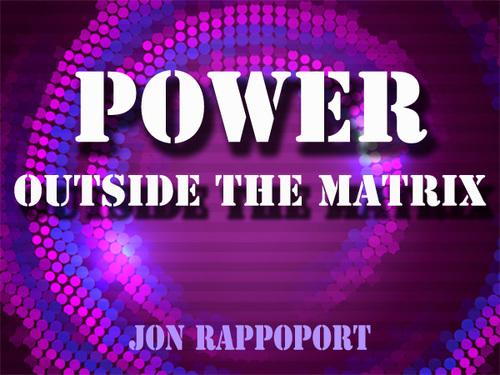 ---
This seems like a tautology. But it isn't, because there are cases in which an "outbreak" is promoted, and yet the virus which is said to be at the root of the outbreak can't be found.
It can't be found in the body. Or it can't be found in sufficient quantity to cause disease.
Its presence and influence can only be inferred through faulty and/or deceptive means.
That's why, in email correspondence with me, David Rasnick, PhD, announced this shocking finding:
"I have examined in detail the literature on isolation and Ems [EM: electron microscope pictures] of both Ebola and Marburg viruses. I have not found any convincing evidence that Ebola virus (and for that matter Marburg) has been isolated from humans. There is certainly no confirmatory evidence of human isolation."
Unless and until I see convincing evidence to the contrary, that's called a knockout punch.
Jon Rappoport
The author of three explosive collections, THE MATRIX REVEALED, EXIT FROM THE MATRIX, and POWER OUTSIDE THE MATRIX, Jon was a candidate for a US Congressional seat in the 29th District of California. He maintains a consulting practice for private clients, the purpose of which is the expansion of personal creative power. Nominated for a Pulitzer Prize, he has worked as an investigative reporter for 30 years, writing articles on politics, medicine, and health for CBS Healthwatch, LA Weekly, Spin Magazine, Stern, and other newspapers and magazines in the US and Europe. Jon has delivered lectures and seminars on global politics, health, logic, and creative power to audiences around the world. You can sign up for his free emails at NoMoreFakeNews.com.