Swine Flu Death Report
by Jon Rappoport
November 30, 2009
Reuters has put the global death figure from Swine Flu at 6,250. That's the official total from the beginning of the "pandemic" in April.
Doing the math, and extrapolating for the rest of 2009, we get roughly 10,000 deaths. World-wide.
However, the CDC claims that, in the US alone, every year, 36,000 people die from regular ordinary flu.
WHO estimates that, globally, 300,000 to 500,000 people die every year from ordinary regular flu.
Put it together, folks. This whole thing is a sham and a scam.
If we accept all these stats, CDC/WHO should be saying, "Well, thanks to Swine Flu, we've had a mild flu season so far." Or they should be saying, "Swine Flu is nothing. Regular flu is killing far more people, as we speak. Forget Swine Flu."
Why aren't major media pounding on this hoax day after day? One, by and large, they're too stupid. And two, they don't want to take on the CDC and WHO and the drug companies that are making billions from the vaccine.
Note: There is a vast difference between publishing two or three articles that question the severity of Swine Flu—and mounting a day-in day-out campaign designed to expose the fraud. Two different animals.
With few exceptions, major media don't run day-in day-out campaigns about anything anymore. The mindset is: here today, gone tomorrow.
To the degree that the legend of the crusading journalist and publisher was ever true…that day is over. You could drop tons of paint from planes and never hit a crusading newspaper.
I should also point out there is a potential domino effect here. IF a major newspaper or TV network decided to expose the CDC/WHO racket on Swine Flu, after all the heavy propaganda about the "pandemic," other questions would be raised about these lying agencies and their pharmaceutical allies. There would be a piling-on.
Media are certainly not up for that. It would disturb too many icons and expose too many skeletons, and it would directly challenge medical science, big money, and the veracity of many doctors and medical bureaucrats who feed stories to reporters on a regular basis. The whole structure of medical/health reporting would tremble.
SWINE FLU A FRAUD; PUBLIC HEALTH AGENCIES LYING.
RECENT EPIDEMICS A BUST; PUBLIC FRIGHTENED BY CRIMINALLY FALSE STATEMENTS.
LEADING EXPERT ADMITS WEST NILE, SARS, BIRD FLU, SWINE FLU A BLIP ON THE SCREEN OF DEATH STATISTICS.
106,000 AMERICANS DIE EVERY YEAR FROM THE EFFECTS OF FDA-APPROVED MEDICINES.
US MEDICAL SYSTEMS KILLS 225,000 PEOPLE A YEAR; THIRD LEADING CAUSE BEHIND HEART DISEASE AND CANCER.
CDC, HEALTH AND HUMAN SERVICES LOOK THE OTHER WAY ON MEDICALLY CAUSED DEATHS.
MAJOR TRANQUILIZERS CAUSE 300,000 CASES OF BRAIN DAMAGE.
And so and so forth, the dominos falling.
Collusion between the press and the public health agencies is the barrier that keeps the overall fraud from crashing into view.
"You lie to me, I'll lie to the public." That's the unspoken treaty between reporters and medical bureaucrats.
No wonder television reporters need so much make-up. It has to cover so much.
Sources for stats: Reuters; CDC; WHO; JAMA, July 26, 2000, Starfield; Peter Breggin, Toxic Psychiatry.
---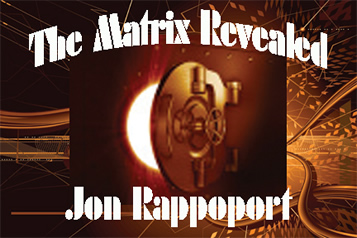 (To read about Jon's mega-collection, The Matrix Revealed, click here.)
---
Jon Rappoport
The author of three explosive collections, THE MATRIX REVEALED, EXIT FROM THE MATRIX, and POWER OUTSIDE THE MATRIX, Jon was a candidate for a US Congressional seat in the 29th District of California. He maintains a consulting practice for private clients, the purpose of which is the expansion of personal creative power. Nominated for a Pulitzer Prize, he has worked as an investigative reporter for 30 years, writing articles on politics, medicine, and health for CBS Healthwatch, LA Weekly, Spin Magazine, Stern, and other newspapers and magazines in the US and Europe. Jon has delivered lectures and seminars on global politics, health, logic, and creative power to audiences around the world. You can sign up for his free NoMoreFakeNews emails here or his free OutsideTheRealityMachine emails here.