by Jon Rappoport
December 4, 2017
We've seen the signs. I've been highlighting them. The infamous childhood mandatory vaccination law in California. Other states that are considering similar bills. The lunatic push in Australia to outlaw medical exemptions from vaccination. The all-out campaign in the press, in various countries, to stigmatize people who defect from official "truth" about the safety and efficacy of vaccines.
On a larger stage, over the past 20 years, we've seen the promotion of fake "pandemics" demanding universal vaccination to ward off "millions of deaths": SARS, West Nile, Swine Flu, smallpox, etc. All duds.
Now we have the boggling case of the University of Massachusetts, where two supposed instances of meningitis have triggered an immediate campaign (video 1, video 2) to vaccinate all 20,000 students against meningococcal B meningitis.
It's clear that the logistics of carrying out such an extensive program have been in place for some time. The University just needed an occasion for a test launch of the system. Now they have it.
Yet USA Today reports: "Sarah Van Orman, a physician and executive director of University Health Services at UW-Madison, said… the new [meningitis] B vaccine… may not be as effective as the routinely given vaccine against the four other major bacteria strains."
"In a study of 499 Princeton University students who received the new B vaccine during an outbreak there, up to a third did not show a good immune response eight weeks after the second dose, Van Orman said."
"Some research suggests the vaccine also may provide immunity only for six to 12 months, she said."
But it's full steam ahead for the U of Massachusetts. Other colleges have long been making preparations. For example, the University of Rochester, according to its Newscenter (September 19, 2014): "On Thursday, Oct. 30, University Health Service (UHS) staff will attempt to vaccinate 5,000 students, faculty and staff against this year's flu virus [in one day]. The effort will doubly serve as a test of emergency preparedness to practice delivering mass quantities of vaccine or drug in response to an urgent public health concern. The effort is being coordinated by UHS, RC/MERT (University of Rochester River Campus Medical Emergency Response Team), University Environmental Health & Safety and the Monroe County Office of Emergency Preparedness…'We will have to give about 600 vaccinations an hour to meet our goal,' said Ralph Manchester, MD, vice provost and UHS director."
Understand: this was a test of a system, an emergency system. That was the primary goal of the operation.
Piece by piece, in the US—and undoubtedly in other countries—the groundwork is being laid for huge networks that can, at a moment's notice, go live and mass-vaccinate extraordinary numbers of people.
And they would do exactly that—upon the announcement of a "new deadly pandemic that threatens the population."
How would the "pandemic" occur—or rather, how could it be staged?
Obviously, the vaccine itself could be a carrier, since all sorts of new toxins could be covertly inserted, in addition to the more familiar toxic substances already present in vaccines.
But beyond that?
Here is backgrounder I wrote on the subject: How to Stage a Bioterror Event:
The germ is the cover story for chemical destruction.
In general, the primary fact is: no matter what kind of germ you're talking about or where it came from, releasing it intentionally does not guarantee predictable results. Far from it.
For instance, people whose immune systems are at different levels of strength are going to react differently.
The perpetrators may find that far less than 1% of people exposed get sick.
Therefore: use a chemical and claim it is a germ.
In other words, there is no germ attack. It's called a germ attack, but that's a lie. The perps bring in researchers to the affected area, who go on to claim they have isolated a germ that is the cause of death and illness. It's a sham. What really happened was the spread of a toxic chemical that can't be detected, unless you're looking for it.
The chemical has severe, deadly, and predictable effects for a week or two. Then it disperses and loses potency and the "epidemic" is done.
In some town, a fairly isolated community, the word goes out that people are suddenly falling ill and dying. The CDC and the Army are called in to cordon off the area and quarantine all citizens. A peremptory announcement is made, early on, that this is a biowar attack.
Major media are allowed outside the periphery. Network news anchors set up on-location and do their wall to wall broadcasts "from the scene."
The entire nation, the entire world is riveted on the event, 24/7.
People inside the cordon fall ill and die. Reports emerge from the town:
The networks state that "heroic doctors are taking samples of blood and the blood is being analyzed to find the germ that is causing the epidemic." The DoD confirms over and over that this is, indeed, a biowar attack.
Human interest stories pile up. This family lost three members, that family lost everybody. Tragedy, horror, and the desired empathic response from "the world community."
It's a soap opera, except real people are dying.
The medical cartel promotes fear of the germ.
All controlling entities get to obtain their piece of the terrorist pie.
Finally, the doctors announce they have isolated the germ causing death, and researchers are rushing to develop a vaccine (which they produce in record time).
Everyone everywhere must be vaccinated, now. No choice. Do it or be quarantined or jailed.
—Mass vaccination clinics emerge from the shadows, all over the nation. They are ready to go. The system is in place. Everyone must get the vaccine now.
In this declared martial law situation, the doctors are the heroes. The doctors and the Army. And the government, and even the media.
Then, after a few weeks, when the potency of the secret chemical has dispersed, it's over.
When you think about it, this scenario is a rough approximation of what happens every day, all over the world, in doctors' offices. The doctors are prescribing chemicals (drugs) whose effects are far more dangerous than germs that may (or may not) be causing patients to be ill.
In other words, a chem-war attack is being leveled at people all over the world all the time.
See Dr. Barbara Starfield (Johns Hopkins School of Public Health), July 26, 2000, Journal of the American Medical Association, "Is US health really the best in the world." 106,000 people in America are killed every year by FDA-approved medical drugs. That's a million people per decade.
In the wake of a staged "biowar" terror attack, new laws are enacted. The State clamps down harder on basic freedoms. The right to travel is curtailed. Criticizing the authorities is viewed as highly illegal. Freedom of assembly is limited.
"Citizens must cooperate. We're all in this together."
A new federal law mandating the CDC schedule of vaccines for every child and adult—no exceptions permitted—is rushed through the Congress and signed by the President.
It's all based on a lie…in the same way that the disease theory of the medical cartel is based on a lie: the strength of an individual's immune system is the basic determinant of health or illness, not germs considered in a vacuum.
There are people who are determined to inflate the dangers of germs. They trumpet every "new" germ as the end of humankind on the planet. They especially sound the alarm when researchers claim a germ may have mutated or jumped from animals to humans.
"This is it! We're done for!"
However, if you check into actual confirmed cases of death from recent so-called epidemics, such as West Nile, SARS, bird flu (H5N1), Swine Flu (H1N1), and MERS, the numbers of deaths are incredibly low.
If political criminals, behind the scenes, wanted to stage a confined "biowar" event, they would choose a chemical, not a germ, and they would leverage such an event to curtail freedom.
Understand: researchers behind sealed doors in labs can claim, with unassailable ease, that they've found a germ that causes an outbreak. Almost no one challenges such an assertion.
This was the case, for example, with the vaunted SARS epidemic (a dud), in 2003, when 10 World Health Organization (WHO) labs, walled off from view, in communication with each other via closed circuit, announced they'd isolated a coronavirus as the culprit.
Later, in Canada, a WHO microbiologist, Frank Plummer, wandered off the reservation and told reporters he was puzzled by the fact that fewer and fewer SARS patients "had the coronavirus." This was tantamount to confessing that the whole research effort had been a failure and a sham—but after a day or so of coverage, the press fell silent.
SARS was a nonsensical farce. Diagnosed patients had ordinary seasonal flu or a collection of familiar symptoms that could result from many different causes.
But the propaganda effort was a stunning success. Populations were frightened. The need for vaccines, in the public mind, was exacerbated.
Exacerbated; and prepared, for the "next one."
…Until eventually—a chemical attack would be called a germ attack.
A staged reality.
---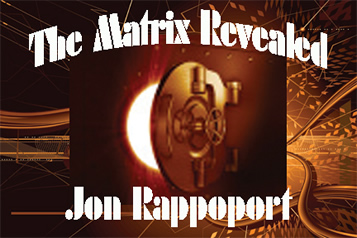 (To read about Jon's mega-collection, The Matrix Revealed, click here.)
---
Jon Rappoport
The author of three explosive collections, THE MATRIX REVEALED, EXIT FROM THE MATRIX, and POWER OUTSIDE THE MATRIX, Jon was a candidate for a US Congressional seat in the 29th District of California. He maintains a consulting practice for private clients, the purpose of which is the expansion of personal creative power. Nominated for a Pulitzer Prize, he has worked as an investigative reporter for 30 years, writing articles on politics, medicine, and health for CBS Healthwatch, LA Weekly, Spin Magazine, Stern, and other newspapers and magazines in the US and Europe. Jon has delivered lectures and seminars on global politics, health, logic, and creative power to audiences around the world. You can sign up for his free NoMoreFakeNews emails here or his free OutsideTheRealityMachine emails here.