When you could still sing America the Beautiful and mean it
by Jon Rappoport
July 11, 2023
(To join my email list, click here.)
No, really. It was quite something, wasn't it? Aside from the destruction of the economy, the suicides, and the mass murder of old people in hospitals with the ventilator-sedation protocol.
It was on television. Trump and Fauci. Doofus and psychopath.
It couldn't have been planned better.
Trump making a few off-hand remarks, grousing a bit, throwing a couple of dud grenades at the news media; and then Fauci, correcting Trump and pointing out the science, emphasizing the danger, discussing the data.
Big-ass and little conniver.
Fauci caught on right away. He saw the theatrical potential. Trump was his perfect foil.
The public—the liberals—and the outright rubes—would line up behind him, Fauci, because he was Trump's antagonist.
What else did Fauci need? He could sell all the COVID restrictions because the television audience would lap up anything that seemed to be anti-Trump.
That was how deep the public was thinking.
Fauci: "Well, what the President just said isn't entirely true. The emerging data tells a somewhat different story."
The public: GOTCHA! OH, LOVE YOU, FAUCI. JUST TELL US WHAT TO DO. KILL OURSELVES? SURE. WE'RE ON BOARD. JUST KEEP CONTRADICTING THE ORANGE POTATO HEAD.
The show went on. And on.
Fauci was so happy.
He was the Bishop who caught Trump in a hotel room with a hooker. Every day. On television.
These two guys were doing old-time vaudeville.
They both dance, the big guy falls down, the little guy stands on his head, walks on his hands and sings Swanee.
Trump based his whole Presidency on a roaring US economy; and there was this little guy taking it all away from him with the lockdowns and the desolated cities.
The public: PERFECT! BEAUTIFUL! THE ECONOMY'S FUCKED. WE LOVE IT. THAT'LL SHOW TRUMP. LOOK AT HIM WITH HIS THUMB UP HIS ASS. IT'S A GREAT DAY IN AMERICA.
It's Abbott and Costello. Laurel and Hardy. Dean Martin and Jerry Lewis. Bob Hope and Bing Crosby. Johnny Carson and Ed McMahon. Beavis and Butt-Head.
To read the rest of this article and comment on it, click here.
---
(Episode 48 of Rappoport Podcasts — "What Is Robert Kennedy Really Doing? Is his Presidential campaign on the level, or is it just an illusion?" — is now posted on my substack. It's a blockbuster. To listen to this podcast, click here. To learn more about This Episode of Rappoport Podcasts, click here.)
---
BOOM! My new novel, THE GRID LAID OVER THE WORLD has been released! To learn more, click here.
---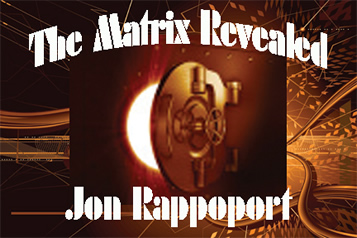 (To read about Jon's mega-collection, The Matrix Revealed, click here.)
---
To read Jon's articles on Substack, click here.
---
Jon Rappoport
The author of three explosive collections, THE MATRIX REVEALED, EXIT FROM THE MATRIX, and POWER OUTSIDE THE MATRIX, Jon was a candidate for a US Congressional seat in the 29th District of California. He maintains a consulting practice for private clients, the purpose of which is the expansion of personal creative power. Nominated for a Pulitzer Prize, he has worked as an investigative reporter for 30 years, writing articles on politics, medicine, and health for CBS Healthwatch, LA Weekly, Spin Magazine, Stern, and other newspapers and magazines in the US and Europe. Jon has delivered lectures and seminars on global politics, health, logic, and creative power to audiences around the world. You can sign up for his free emails here.