And the Coronavirus
by Jon Rappoport
(To join our email list, click here.)
Continuing my "greatest COVID hits" articles. To read my introduction to this ongoing series, go here.  To support my work and get value for value, order My Matrix Collections here and subscribe to my substack here.
February 28, 2020
After a prominent celebrity went public with the following statement on national television, I tried to contact him for a follow-up. No luck so far. He does seem to urge people to take the flu shot, but his other remarks are potentially explosive, if you fill in a few blanks and glean the implications. Here is his statement:
"I want you to understand something that shocked me when I saw it. I spoke with Dr. Fauci on this and I was really amazed, and I think most people are amazed to hear it. The [ordinary] flu in our country kills from 25,000 people to 69,000 people a year. That was shocking to me. So far, if you look at what we [in the US] have with the 15 people [diagnosed with the coronavirus] and they're recovering, one is pretty sick, but hopefully we'll [he'll] recover. But the others are in great shape. But think of that. 25,000 to 69,000 [ordinary flu deaths annually]. Over the last 10 years, we've lost 360,000. These are people that have died from the flu, from what we call the flu…"
He seems to be pointing a big fat accusatory finger at US public health agencies, like the CDC, as he says, Look, all these deaths from ordinary flu every single year, like clockwork, and you don't declare THAT an epidemic or an emergency, so why are you issuing stern warnings when 15 people in the US have been diagnosed with the coronavirus; imagine the reaction if we had 35,000 deaths year after year from the coronavirus in the US; you would go nuts; what's wrong with you people?
You can see why I wanted to follow up with him. All sorts of issues to explore and discuss.
Of course, as I've shown in these pages many times, he's dead wrong about how many people can be confirmed as annual flu deaths in the US. That number is really miniscule. Nevertheless, his point stands: if national public health agencies CLAIM that 35,000 people a year die of ordinary flu, why don't they call that an epidemic? And why do they call 15 "coronavirus cases" in the US an emergency?
I wanted to sort all this out with him, but it looks like I won't be able to.
His name is Donald Trump, and he made his comments Wednesday night during his address to the nation (at the 5m35s mark).
The press made very little mention of this, except to disparage him for daring to compare ordinary pedestrian flu to the white-hot coronavirus situation. What is ordinary about the claim that 360,000 Americans per decade die of the flu? That's a puzzle, isn't it? I just called my doctor. He told me to take two Thorazine, go to bed, and think about it again in the morning.
---
These "Greatest COVID Hits" Series Of Articles are archived under the category Covid Revisited
These articles — at the time of original publication — are archived under the category Covid
---
(Episode 32 of Rappoport Podcasts — "The Transgender and Transhumanist Agenda; I connect MANY dots in ways they've never been (but should be) connected" — is now posted on my substack. It's a blockbuster. To listen, click here. To learn more about This Episode of Rappoport Podcasts, click here.)
---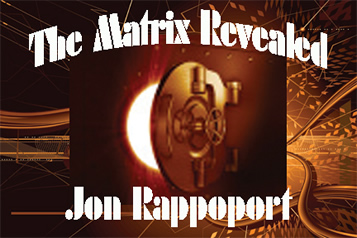 (To read about Jon's mega-collection, The Matrix Revealed, click here.)
---
To read Jon's articles on Substack, click here.
---
Jon Rappoport
The author of three explosive collections, THE MATRIX REVEALED, EXIT FROM THE MATRIX, and POWER OUTSIDE THE MATRIX, Jon was a candidate for a US Congressional seat in the 29th District of California. He maintains a consulting practice for private clients, the purpose of which is the expansion of personal creative power. Nominated for a Pulitzer Prize, he has worked as an investigative reporter for 30 years, writing articles on politics, medicine, and health for CBS Healthwatch, LA Weekly, Spin Magazine, Stern, and other newspapers and magazines in the US and Europe. Jon has delivered lectures and seminars on global politics, health, logic, and creative power to audiences around the world. You can sign up for his free NoMoreFakeNews emails here or his free OutsideTheRealityMachine emails here.