by Jon Rappoport
December 10, 2021
(To join our email list, click here.)
Tonight's top story
An unvaccinated man jumped twelve stories to his death
Landing three blocks away
From US Attorney General Merrick Garland's limousine
The FBI is investigating
What could be the attempted murder of the nation's
Top law-enforcement official and
An act of domestic terrorism
Blood taken from the scene
Revealed the Omicron Variant
The Daily Mail interviewed a close friend
Of the deceased unvaccinated attacker
The friend stated
"He was a Christian moonshiner
He lived in a cabin in the woods
With his dogs and guns
I tried to convince him
To take the vaccine"
Here's Bob with a weather warning
Yes, Jim, there's a huge storm brewing
400 miles off the coast with winds up to
200 miles an hour
The system is slowly moving toward us
It could arrive next month
Kathleen?
Thanks Bob
I have a breaking update
On the unvaccinated terrorist
Who jumped to his death hours ago
Dangerously close to the visiting US Attorney General
Local police have found he was carrying
A fake vaccination card
This is a federal felony punishable by up to five years in prison
The card was apparently issued by
The Church in the Woods
An offshoot of a white supremacist
Militia
Which has active chapters in seven states
Including members
Who may have participated in
The January 6th Capitol break-in attempting
To overthrow the federal government
And install 500 new handpicked Congressional legislators
And this just in
The FBI has searched the terrorist jumper's cabin in the woods
And has discovered a significant amount of
Nigerian Yellowcake uranium
12 new cases of Omicron Variant COVID have been reported
In Nigeria
The CDC has sent researchers to the African nation
Omicron is now affecting 57 countries
President Biden has canceled his trip to Waukesha
Wisconsin the scene of a devastating SUV accident
That killed and injured scores of Christmas shoppers
Four cases of Omicron have been diagnosed in that community
Which has been locked down
Bill Gates has released a statement assuring the public
That a new vaccine targeting the Omicron harpoon protein
Is undergoing testing and could be ready for approval by next week
TMZ spoke with Melinda Gates, who emphasized
That her divorce proceedings "have nothing to do with Jeffrey Epstein,
He and Bill were merely
Acquaintances"
The Gates Foundation is donating 400 million dollars for research
On mental health issues arising from the pandemic
Here in our community, Dr. Frank Lummer, head of clinical services at
The Grimes Psychiatric Outreach Program, has announced a
Fundraiser
To obtain cutting-edge
Medicines to treat clinical depression and adult ADHD
Dr. Lummer's wife, Bobbi, is organizing her
Annual
Christmas sing-along at the Folsom Lighthouse
The structure which was the scene of a Civil War battle
Is soon to be torn down
After local students demanded the removal
Of all commemorative plaques from its base
Last year during
Halftime ceremonies of the football game
Between the Wilson High Dragoons and the Velma Tigers
Velma is in the state playoffs again this season
But their star running back Ric Ransom has entered the
COVID protocol and must show two negative tests
Before he can rejoin the squad
Ric hopes to enroll at Miami U in the fall and play
For the Hurricanes
The heavy offshore system we've been monitoring
Has just been downgraded to a tropical storm
The terrorist jumper attacker
Has now been identified as Lee Michael Foster
An African American male
32 at the time of his tragic death
US Attorney General Garland has
Released a statement
"This unfortunate suicide was a cry for help
The young man was desperately trying to
Obtain COVID vaccination but
Owing to the disproportionate distribution of
Medical services to disadvantaged communities he
Was unable to succeed in his efforts and
The virus ravaged his system
I will do everything in my power to ensure that
His protest and his message and ultimately his
Death were not in vain"
Kit, do you have a further update on this heroic suicide?
"I was just wondering what happened to our earlier report
That this man was living in a cabin in the woods where
The FBI found Yellowcake uranium—"
(The screen
Went dark
Then colored bars appeared
After 30 seconds
The broadcast resumed)
Sorry about that
We experienced a momentary technical glitch
Here's the newest member
Of our news team
Sam Blam Franklin
With a half-time report
On the Lee Michael Foster Memorial Pop Warner game underway in Goshen Park
Where ground has been broken for the
Construction of the Lee Michael Foster Omicron Universal Vaccination Clinic
Alternate ending: The next day, the local paper ran this story on page four:
"Local police have positively identified the man who leaped to his death from the Branton Building. He is Robert Case, son of Mayor Carl Case. Robert left a note at his apartment indicating he was despondent over a recent break-up with his live-in girlfriend, Margo Moskowitz. Robert had withdrawn from the Harvard Business School earlier this month…The Mayor has announced he is resigning his office to be with his family at this time. He will dedicate himself to raising funds for a new local center that treats mental health issues. The Mayor is currently under indictment for trafficking fentanyl, in collaboration with members of the Zuma Cartel. Before his suicide, Robert Case was participating in an out-patient program for drug addicts. The program is sponsored by the area's leading employer, Xi Pharmaceuticals, a Chinese-owned company. Xi's Chief Operating Officer, Dr. Herbert Cash, was US Attorney General Garland's college roommate. The Attorney General was in town paying a brief visit to Dr. Cash. Mr. Garland is now en route to Zurich, where he will address a global banking conference. His spokesman stated the conference is likely to last six to ten weeks…"
---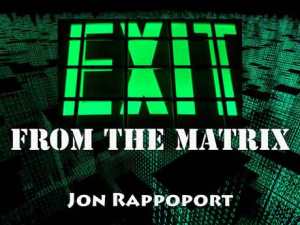 (To read about Jon's mega-collection, Exit From The Matrix, click here.)
---
Jon Rappoport
The author of three explosive collections, THE MATRIX REVEALED, EXIT FROM THE MATRIX, and POWER OUTSIDE THE MATRIX, Jon was a candidate for a US Congressional seat in the 29th District of California. He maintains a consulting practice for private clients, the purpose of which is the expansion of personal creative power. Nominated for a Pulitzer Prize, he has worked as an investigative reporter for 30 years, writing articles on politics, medicine, and health for CBS Healthwatch, LA Weekly, Spin Magazine, Stern, and other newspapers and magazines in the US and Europe. Jon has delivered lectures and seminars on global politics, health, logic, and creative power to audiences around the world. You can sign up for his free NoMoreFakeNews emails here or his free OutsideTheRealityMachine emails here.