by Jon Rappoport
To describe the root of my collection, Power Outside The Matrix, I give you this piece:
THE REALITY SALESMAN MAKES A HOUSE CALL:
Step right up, folks. This is a deal you can't afford to miss. You know that thing you cling to like a drowning man in a turbulent sea?
It's called reality, and I represent the company that manufactures it. I'm proud to say I've held this job for over a hundred thousand years. So as far as product knowledge is concerned, you just aren't going to find anybody like me.
Some folks believe reality is rocks and trees and desert and sun and rain, and brick and concrete and steel and glass, and the mountain ranges, the sky, the moon and the stars. They believe reality is a house and all the things in it, and the mementos you hold on to, to remind you of the past.
But I'm really selling…guess what? A little thing called perception. It sounds odd, but that's what it is:
How you see things, and what you think about what you see.
Because to tell you the truth, no matter what time period you live in, whether on Earth or another planet, it all comes down to that. How you see what's in front of you.
And believe it or not, perception comes in different forms. My company makes the perception that endures. It's the package you're living with right now. It's the down-to-earth here-it-is straight-ahead common-sense type. We call it: IT IS WHAT IT IS. That's trademarked, by the way. IIWII. It is what it is.
IIWII was invented by a very smart guy whose name has been long forgotten. He was a flaming genius, and he realized something great. People would go for IIWII because it would lock them in.
People didn't want a wobbling here-and-there kind of perception. Who wants to wake up on a Tuesday morning and suddenly see life in a completely different way? Who wants that kind of shock to the system?
IIWII is the most popular perception package in the universe, bar none. Reliability. Consistency.
All those centuries and epochs ago, when I was a rookie training for this job, the guys let me try on a whole bunch of different perception packages, so I could see what kind of competition I was up against. I saw things I wouldn't want to describe to you. Horrible things. And when I was given IIWII, our product, I felt like I was home.
IIWII gives you the kind of stability you can count on for your whole life. And, believe me, that's no small feat. We've built slow decay (SD) into the package, so things gradually deteriorate—because, think about it, do you really want that tree in your back yard to stay at one stage of growth forever? Do you? It might seem like a nice idea, but it would screw up the need for replacement, and then you'd get into the whole conundrum of THE BODY, too, and how long it should last. People like to think they want physical immortality, but if you give it to them (via some other package), they go crazy after a while. Because their problems, as well as their triumphs, never go away. I could show you a little planet where the inhabitants went for one of our competitor's products. The suicide rate is over seventy percent! The place is a nuthouse!
IIWII is time-tested. It's as solid as solid can be made. It doesn't break down.
But it does need boosters from time to time, and that's why I'm here today talking to you.
Every twenty thousand years, we institute a planet-wide upgrade, just to make sure nothing goes wrong. And you're all due.
Now, you could refuse, in which case you'll have to take full responsibility for the ugly consequences, or you could do the right thing and just re-up. I have to tell you, our re-up rate is 99.859 percent. I'm proud of that figure.
By the way, the holdouts, the deniers, and the self-styled rebels? Without boosters, when your IIWII breaks down, you're going to fail to fit in. Most definitely you're going to experience some things other people just won't understand.
It's part of my service to clue you into the whole picture.
But here is the good part. You can get your booster now, during our pre-op special, by simply signing for it and taking the pledge, and continuing to pay a mere sixty percent of your annual income for the rest of your lives. Which when you think about it, is nothing for what you're getting. Again, reliability, and consistency.
In the small print, the pledge lays out a few details concerning IMAGINATION. This is for your own protection—because if you take imagination too far (and who knows how far that is, until it's too late), you'll set up what we call an interference field, which means IIWII will tend to malfunction. You don't want that.
So here's the contract and the pledge. Sign on the dotted line, and pay the fee, and we're done.
Thank you very much.
I love you guys. Really, I do. I admire your tenacity and your willingness to stay with our perception package. Our company continues to prosper because of you. Visit the IIWIS website and Facebook page and find out about upcoming picnics and vacation tours. We're hosting booster events at thousands of locations.
If you don't come to us, we'll come to you.
We've got you on our list.
---
My mega-collection, Power Outside The Matrix, aims at giving you stability outside the reality machine. The collection contains information and exercises designed to maximize your handling of logic, analysis, AND creative power.
Here are its contents. I hope you'll consider ordering it.
---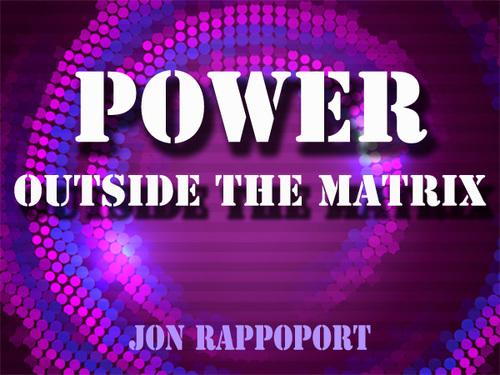 ---
Here are the particulars. These are audio presentations. 55 total hours.
* Analyzing Information in the Age of Disinformation (11.5-hours)
* Writer's Tutorial (8.5-hours)
* Power Outside The Matrix and The Invention of New Reality (6.5-hours)
Then you will receive the following audio presentations I have previously done:
* The Third Philosophy of Imagination (1-hour)
* The Infinite Imagination (3-hours)
* The Mass Projection of Events (1.5-hours)
* The Decentralization of Power (1.5-hours)
* Creating the Future (6-hours)
* Pictures of Reality (6-hours)
* The Real History of America (2-hours)
* Corporations: The New Gods (7.5-hours)
I have included an additional bonus section:
* The complete text (331 pages) of AIDS INC., the book that exposed a conspiracy of scientific fraud deep within the medical research establishment. The book has become a sought-after item, since its publication in 1988. It contains material about viruses, medical testing, and the invention of disease that is, now and in the future, vital to our understanding of phony epidemics arising in our midst (and how to analyze them). I assure you, the revelations in the book will surprise you; they cut much deeper and are more subtle than "virus made in a lab" scenarios.
* A 2-hour radio interview I did on AIDS in Dec 1987 with host Roy Tuckman on KPFK in Los Angeles, California.
* My book, The Secret Behind Secret Societies
(All the audio presentations are mp3 files and the books are pdf files. You download them upon purchase. You'll receive an email with a link to the entire collection.)
This is about your power. Not as an abstract idea, but as a living core of your being. This is about accessing that power and using it.
Jon Rappoport
The author of three explosive collections, THE MATRIX REVEALED, EXIT FROM THE MATRIX, and POWER OUTSIDE THE MATRIX, Jon was a candidate for a US Congressional seat in the 29th District of California. He maintains a consulting practice for private clients, the purpose of which is the expansion of personal creative power. Nominated for a Pulitzer Prize, he has worked as an investigative reporter for 30 years, writing articles on politics, medicine, and health for CBS Healthwatch, LA Weekly, Spin Magazine, Stern, and other newspapers and magazines in the US and Europe. Jon has delivered lectures and seminars on global politics, health, logic, and creative power to audiences around the world. You can sign up for his free NoMoreFakeNews emails here or his free OutsideTheRealityMachine emails here.