by Jon Rappoport
Copyright © 2021
July 23, 2021
(To join our email list, click here.)
After money was sold down the river and resurrected on a cross of blood
After a cash-loaded God strolled into town
After the Universal Hospital drugged synapses and drove the wild horses of imagination down into underground canyons
and sculpted androids stepped out in the aftermath buying back their own memories
geologic wraiths spiraled up inside television sets—
their only ambition to stunt prayers for deliverance and kill raw desire—
we watched wildcats of Texas dripping sweat into their high hats pull black blood out of the ground and send it through tubes of night to porcupine refineries on the shores of the Body of Christ
apostles were resurrected in knife-cutter fins of long Cadillacs running hot across the Kansas plains with blondes in the back seat drinking
New horizontal towns were multiplying on Long Island, stage flats of perfect geometry coddled in the breasts of hopeful mothers asking for redemption from pill-addled afternoons and hallucinatory music cooking in shining ovens
monthly budgets laid out neatly on Formica counters below the knives
distant farm fields dead in the snow
blank-eyed children walking in the snow
cultivating nightmares they would one day visit on Reality
I flew over those fields and heard the crackerbox houses rot and rust as nothing ever rotted before
[…]
To read the poem in full, click here.
---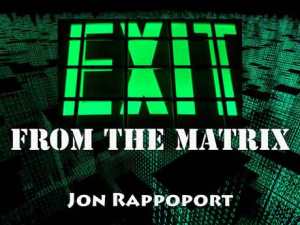 (To read about Jon's mega-collection, Exit From The Matrix, click here.)
---
Jon Rappoport
The author of three explosive collections, THE MATRIX REVEALED, EXIT FROM THE MATRIX, and POWER OUTSIDE THE MATRIX, Jon was a candidate for a US Congressional seat in the 29th District of California. He maintains a consulting practice for private clients, the purpose of which is the expansion of personal creative power. Nominated for a Pulitzer Prize, he has worked as an investigative reporter for 30 years, writing articles on politics, medicine, and health for CBS Healthwatch, LA Weekly, Spin Magazine, Stern, and other newspapers and magazines in the US and Europe. Jon has delivered lectures and seminars on global politics, health, logic, and creative power to audiences around the world. You can sign up for his free NoMoreFakeNews emails here or his free OutsideTheRealityMachine emails here.