by Jon Rappoport
January 22, 2020
(To join our email list, click here.)
NEW VIRUS IN CHINA. WATCH OUT. SPREADING. ANIMALS TO HUMANS? PANDEMIC COMING UP? OBEY MEDICAL AUTHORITIES. ALL HANDS ON DECK. CENTERED IN WUHAN. CITY OF 11 MILLION. WILL THEY QUARANTINE AND SHUT DOWN HONG KONG? TRAVELERS WITH THE VIRUS GETTING THROUGH TO EUROPE AND AMERICA? WHAT'S THE NAME OF THE VIRUS? 2019-nCOV or nCoV2019. WHAT? THANK GOD THE CHINESE ARE UNDER A TIGHT DICTATORSHIP, THEY CAN CRACK DOWN AND QUARANTINE ANYBODY ON A WHIM. IF YOUR BODY TEMPERATURE IS ELEVATED ON A TEST, THEY STOP YOU? WOW. WE MAY NEED THAT IN THE USA, AS LONG AS THEY DON'T STOP ME. IMPEACHMENT? FORGET THAT, IT'S THE VIRUS.
In the 19 years of this website, the one story I've researched and covered more than any other is the DEADLY VIRUS hustle. SARS, Swine Flu, Ebola, etc.
Now, we have a new one. The possible maybe CORONAVIRUS from China.
In each case of these could-be killers, we have an official warning. "This could be the big one." Millions of people could fall ill and die. In each case, there are travelers. "People returning from X have the virus and they are spreading it." In the case of SARS and Swine Flu, the patients' symptoms were typical "flu" symptoms: fever, fatigue, cough, weakness. In other words, there was no reason to think the "new disease" was any different from ordinary traditional illness.
The big and only difference is the claim that researchers have found a new virus as the cause of illness.
But in each case, there are serious problems with that claim.
First, only "official researchers" are involved with the "discovery" of the new virus. There is no confirmation from independent researchers. For example, in the case of SARS (2003), ten labs belonging to the World Health Organization (WHO) performed the "discovery" of that coronavirus. They were connected through closed circuit—no outsiders allowed.
Eventually, a Canadian biologist working for WHO, Frank Plummer, told the press he was quite puzzled by what he was seeing: more and more SARS patients didn't have the SARS virus at all. In fact, almost no new SARS patients had the virus. Well, when you stop and think about that ridiculous state of affairs, you realize you can't say a person, with ordinary flu-like symptoms, is suffering from a new disease if he doesn't have the cause of that disease. But the mainstream press took no notice of this and moved on.
In the case of the Swine Flu "epidemic" (2009), the US Centers for Disease Control (CDC) was reporting thousands of cases in America—but CBS star reporter Sharyl Attkisson found out that the CDC had, mysteriously, stopped counting cases. How could this be? She came up with the devastating answer. The overwhelming percentage of blood tests on Swine Flu patients were coming back from labs with no sign of the Swine Flu virus or any other flu virus. That story ran on the CBS News site, but as Attkisson told me in an interview, the bosses at CBS wouldn't allow it on the national television news broadcast. Censored. And that was the end of the CBS exposure of the Swine Flu hoax. Yet, as I reported: about three weeks after CBS shut down the story, WebMD ran a piece in which the CDC estimated there were 22 MILLION cases of Swine Flu in the US. If your head is spinning, it should be.
The second major problem with the announcement of a "new disease" or an epidemic is the absence of research on what we could call the "infection factor." Let me explain. To even begin to say a particular germ is causing a particular disease, you have to prove the germ is present in a patient's body IN GREAT NUMBERS. A few little viral particles floating around here and there are irrelevant. You need millions. So if an ignorant doctor or a researcher states, "Well, this patient has the coronavirus so he has the disease," he's falling far short of proving anything useful. Where are the tests proving the patient has millions of the virus in his body? Nowhere.
The third major problem with the announcement of a "new disease" or an epidemic is the "test factor." What test is being run on a patient to prove he has the "new virus" in his body? Most of the time, it is an antibody test. Stay with me here, this is important. Prior to 1984, it was generally recognized that a positive antibody test was a good outcome. In short, it indicated that the patient's immune system had come in contact with a germ and successfully defeated it. But then, for several reasons, this science was turned on its head. A positive antibody test, from that time on, was evidence that the patient currently had the disease in question. Boom. Now, disease numbers could easily be inflated. And they were. And they are.
Automatically assuming that the announcement of a possible epidemic is accurate—well, it's a major mistake, to say the least.
The CDC and WHO are operated by virus hunters. Running a new virus up the flagpole is their stock in trade. They rush to an area where an "outbreak" has been announced, and they roll up their sleeves and look for the virus. They pay no attention to environmental factors, such as contaminated water supplies or toxic chemicals or malnutrition or lack of basic sanitation.
Epidemics are good for business. Pharmaceutical business, inducing fear business, shutting down travel business, diverting the public from key events business, surveillance and quarantine business, and so on.
I'm sure, at some point, there will be THANK YOU, CHINA, BUSINESS, too. Thank you, China, for your rule by iron fist over the population. Your ability to stop anyone for any reason and test for "the virus" may have saved the planet from an extinction event. Freedom? Forget it. Public safety is the ace in the deck. It wins every time. Hell, we may need a good epidemic in the US, so we can exert more control over the unruly citizenry. The doctor is king. Do what he says. Always. How many vaccines are there now? Take all of them. Everyone must.
Nineteen years ago, when I started this website, I told you that, of all the cartels in this world, the most important and powerful one, long-term, was the medical cartel. Nothing since that time has changed my mind.
---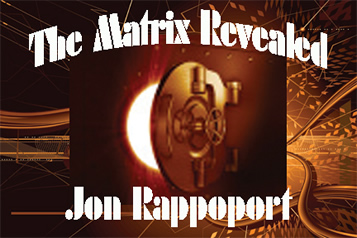 (To read about Jon's mega-collection, The Matrix Revealed, click here.)
---
Jon Rappoport
The author of three explosive collections, THE MATRIX REVEALED, EXIT FROM THE MATRIX, and POWER OUTSIDE THE MATRIX, Jon was a candidate for a US Congressional seat in the 29th District of California. He maintains a consulting practice for private clients, the purpose of which is the expansion of personal creative power. Nominated for a Pulitzer Prize, he has worked as an investigative reporter for 30 years, writing articles on politics, medicine, and health for CBS Healthwatch, LA Weekly, Spin Magazine, Stern, and other newspapers and magazines in the US and Europe. Jon has delivered lectures and seminars on global politics, health, logic, and creative power to audiences around the world. You can sign up for his free NoMoreFakeNews emails here or his free OutsideTheRealityMachine emails here.