Where is the bill of particulars against him?
by Jon Rappoport
August 8, 2018
(To join our email list, click here.)
(For Part 2, click here)
When several big-tech companies remove a person from their platforms in a 12-hour period, which is what happened to Alex Jones, you need to ask:
Where are the specific violations Jones is charged with?
Where is the bill of particulars against him?
Where is the "hate speech" he is accused of spewing to his audience?
What definition (if any) of hate speech is being used as a measuring stick?
Asking those questions, you come up very short on answers.
Jones is being made into a SYMBOL of a hater by social media and the mainstream press—and when THAT is the objective, the whole idea is to avoid specifics and just smear the target with a very broad and general brush.
"Hate speech" is replacing the 1st Amendment as a standard of judgment. The question now is: did you express hate toward someone? Rather than: did you commit slander or libel?
Did you utter something that could offend and might disturb a victim or victim-group? Yes? YOU'RE BANNED. CENSORED. Of course, social media giants decide what constitutes hate and who is designated a victim-group with "protected status."
The term "hate speech" is very elastic. Its definition can be changed on a moment's notice.
Don't like someone?
Upset at their actual ideas?
Disturbed at their success?
Embroil them in charges of being a hater and expressing hatred toward victims. Ban and censor them from online platforms based on that accusation. Ignore millions of their words—instead, invoke a few outbursts they committed over the years.
And finally, make the conversation all about whether the accused—in this case, Jones—is good or not, is honest or not, is caring or not, is worthy or not—AS IF THE ANSWERS TO THOSE QUESTIONS WOULD DECIDE WHETHER BANNING JONES FROM ONLNE PLATFORMS WAS A CORRECT ACTION.
This is the ultimate diversion and distraction, for increasing numbers of the dumbed-down public.
And toss the brain-challenged a bone—permission to HATE THE HATER.
"You see, in this case, it's OK to hate, because the target is a hater. So go to it, express all that bottled-up emotion. Have a field day."
"With every molecule of hate you express, you change the meaning of the Bill of Rights and the 1st Amendment. And this is exactly what we need: a new society based on less freedom and more goodness."
Less freedom, more goodness.
If you buy that package, I have condos for sale on the far side of the moon.
---
Here are links to go to, to listen to the Alex Jones show now:
Live stream: 9am to Noon ET:
http://streams.infowars.com/realnews
Live stream: Noon to 4pm ET:
http://streams.infowars.com/alexjones
Live stream: 4pm to 7pm ET:
http://streams.infowars.com/warroom
Additionally, here:
https://www.infowars.com/watch-alex-jones-show/
---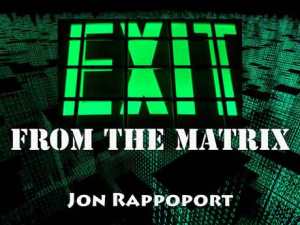 (To read about Jon's mega-collection, Exit From The Matrix, click here.)
---
Jon Rappoport
The author of three explosive collections, THE MATRIX REVEALED, EXIT FROM THE MATRIX, and POWER OUTSIDE THE MATRIX, Jon was a candidate for a US Congressional seat in the 29th District of California. He maintains a consulting practice for private clients, the purpose of which is the expansion of personal creative power. Nominated for a Pulitzer Prize, he has worked as an investigative reporter for 30 years, writing articles on politics, medicine, and health for CBS Healthwatch, LA Weekly, Spin Magazine, Stern, and other newspapers and magazines in the US and Europe. Jon has delivered lectures and seminars on global politics, health, logic, and creative power to audiences around the world. You can sign up for his free NoMoreFakeNews emails here or his free OutsideTheRealityMachine emails here.