"Shall I postpone my life until the world is fixed?"
by Jon Rappoport
March 13, 2017
There are many people who would answer yes to that question.
They would put their lives on the shelf. They would prefer to wait.
Some of them believe a top-down "rescue" is coming, and if they batten down the hatches and last it out, all will be solved.
Others, so-called social justice warriors, don't have lives of their own to begin with. Their lives are, in fact, about seeming to fix the world with tweets, shouts, and other various tactics that signal their virtue—as if that is enough.
Still others would never postpone their lives, because for them life is shopping, and they must shop.
Beyond any of these "lifestyles," there are individuals who opt for finding a vision of their own, their own future, and they pursue that future with great energy and commitment.
They are what life is for. They are what the concept of limited government is for.
There is never, at any time, an ideal circumstance and environment in which individuals can pursue their most profound desires. The individual decides to launch, regardless of the landscape.
These facts have always been on mind as I've worked as a reporter for the past 34 years. In addition to exposing deeper layers of truth beneath the events of our time, I've investigated and researched this question: What is the individual really capable of?
My conclusions led me to putting together my three collections, The Matrix Revealed, Exit From The Matrix, and Power Outside The Matrix. My conclusions also led me to build a private consulting practice, the purpose of which is the expansion of individual creative power in any field of endeavor.
I invite my readers to look into these options.
(If you're interested in becoming a client, you can email me at: qjrconsulting at gmail dot com)
---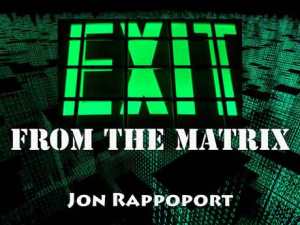 (To read about Jon's mega-collection, Exit From The Matrix, click here.)
---
Jon Rappoport
The author of three explosive collections, THE MATRIX REVEALED, EXIT FROM THE MATRIX, and POWER OUTSIDE THE MATRIX, Jon was a candidate for a US Congressional seat in the 29th District of California. He maintains a consulting practice for private clients, the purpose of which is the expansion of personal creative power. Nominated for a Pulitzer Prize, he has worked as an investigative reporter for 30 years, writing articles on politics, medicine, and health for CBS Healthwatch, LA Weekly, Spin Magazine, Stern, and other newspapers and magazines in the US and Europe. Jon has delivered lectures and seminars on global politics, health, logic, and creative power to audiences around the world. You can sign up for his free NoMoreFakeNews emails here or his free OutsideTheRealityMachine emails here.