Obama fundraiser; sex with a minor; case dismissed
Terry Bean, prominent supporter and great friend of Obama
by Jon Rappoport
December 13, 2016
As you read this article, imagine how the press would have handled the story if Terry Bean had been a fundraiser for, and great friend of, Donald Trump.
I'll let three media outlets describe the case and the outcome.
CNN, November 23, 2014: "A prominent supporter of President Barack Obama and co-founder of the Human Rights Campaign was arrested last week on charges of sodomy and sexual abuse related to what authorities said was an encounter with a juvenile male."
"Terrence Bean, 66, a major Democratic donor and a celebrated gay-rights activist, was indicted on two felony charges of sodomy and a misdemeanor count of sexual abuse by a grand jury and arrested in Oregon Wednesday, according to a statement from the Portland Police Bureau. Bean was released later that day on bail, pending a court hearing."
"Kiah Lawson, a 25-year-old identified by multiple news outlets as Bean's ex-boyfriend, was arrested on Thursday on related charges, Portland Police confirmed. He's also been released from jail, and pleaded not guilty on Friday, according to The Oregonian newspaper."
"The charges relate to an alleged encounter the two had with a 15-year-old boy in Oregon last year, The Oregonian reported. Bean's attorney has denied the charges and said in a statement that Bean is the 'victim of an extortion ring.' CNN is not naming the alleged victim because the network does not identify minors or victims of sexual assaults."
"Bean, a real-estate developer and co-founder of the Gay and Lesbian Victory Fund and the Human Rights Campaign, is a powerful figure in Democratic politics."
"The Oregonian reported that he helped raise more than half a million dollars for Obama's 2012 re-election campaign, and Federal Election Commission records show he's contributed thousands to Democrats, including former Secretary of State Hillary Clinton, Senate Majority Leader Harry Reid and others."
"Photos posted online show him with the Obamas, House Minority Leader Nancy Pelosi and aboard Air Force One with the President.
In remarks at a 2009 Human Rights Campaign dinner, President Obama thanked Bean, calling him a 'great friend and supporter'."
Flash forward to September 2, 2015. The Washington Blade reports: "An Oregon judge on Tuesday dismissed sex with minor charges against gay rights leader and real estate developer Terry Bean after prosecutors said they decided not to force the 17-year-old alleged victim in the case to testify against Bean at a trial."
"At the request of prosecutors, Lane County Circuit Court Judge Jay McAlpin dismissed the case 'without prejudice,' an action that allows prosecutors to reinstate the case within the next 12 years if the alleged victim changes his mind and agrees to testify."
"But the youth, who was 15 at the time authorities allege he had sex with Bean, 66, and Bean's former boyfriend, Kiah Lawson, 25, indicates through a statement by his attorney that he has no intention of changing his mind."
"The youth has made his 'unwillingness to testify known at every step in this process,' [the youth's] attorney Lori Deveny said in the statement. 'My client was bullied and manipulated' by the lead detective in the case, she said, and was 'threatened with incarceration' by a special prosecutor when he refused to be bullied into testifying."
"'My client wants no part of this prosecution and never did,' Deveny said."
"Bean and Lawson were indicted last November on two counts of third-degree sodomy, a felony, and one count of third-degree sexual abuse, a misdemeanor, in connection with allegations that they had sex with the then 15-year-old in a hotel room in Eugene in September 2013. Both have pleaded not guilty."
"An attorney representing Lawson has said that Lawson and Bean met the youth through the mobile phone app Grindr."
"At Tuesday's court hearing [Judge] McAlpin also dropped the charges against Lawson."
"The decision by Lane County Chief Deputy District Attorney Erik Hasselman and Lane County prosecutor Scott Healy to drop the charges came a little over a month after they informed [Judge] McAlpin that the 17-year-old had gone into hiding with the full consent of his mother after making it clear he didn't want to testify against Bean."
"The youth's decision to dodge efforts by prosecutors to find him came immediately after another judge rejected a civil agreement reached between Bean and the youth that, under Oregon law, allowed them to petition the court to dismiss the criminal case against Bean."
"[District Attorney] Hasselman revealed for the first time following the judge's dismissal of the case that the agreement called for Bean to pay the youth more than $200,000, according to the Eugene Register Guard."
"Bean and his attorney released statements immediately after reiterating their longstanding assertions that Bean never had sex with the then-15-year-old and that the allegations against Bean were part of a scheme by Lawson and others to extort money from Bean."
That's quite a story. One can speculate about the reasons the boy had for refusing to testify against Terry Bean.
The story continues. Here is what the Willamette Week reported (November 3, 2015): "After the [case] dismissal, Bean, now 67, said justice had been served."
"'I was falsely accused and completely innocent of every accusation that was made,' Bean said in a Sept. 1 statement. 'I look forward to being able to tell the story of this conspiracy of lies, deceit, blackmail, malicious prosecution and homophobia now that this case has ended'."
"In the two months that have passed, Bean has not yet chosen to tell his story…"
"Transcripts of police interviews with [co-defendant] Lawson and the alleged victim shed light on a central question in the case against Bean: whether he knew the teenager he and Lawson picked up for a sexual encounter was under 18."
"Both Lawson and the alleged victim told police Bean did know."
"Lawson has a checkered past. He has a criminal record for theft and assault and a history of meth use, and admitted to police that he stole money and other items from Bean."
"But the transcript of Lawson's interview with Portland police Det. Jeff Myers shows he provided an account that not only incriminated himself—thereby adding weight to his description of events—but also was nearly identical to the alleged victim's account."
"Lawson said he and Bean traveled to Eugene for a Sept. 28, 2013, University of Oregon Ducks football game against California."
"The night before the game, Lawson told police, he contacted the young man, then a high-school sophomore, on Grindr, a hook-up app for gay men. At about 10 pm Sept. 27, Bean and Lawson pulled up to a Eugene 7-Eleven in Bean's black Mercedes S500."
"Soon after the young man got in the car, Lawson said, Bean asked him how old he was."
"Lawson said the young man stumbled initially, then said he was 16, an answer Bean didn't like."
"'Terry [Bean] like, coached him to say, like, he was like, 'Wait, so how old are you?' And he said '16' three more times,' Lawson told [police detective] Myers, according to the July 3, 2014, interview transcript. 'And he's [Bean's] like, 'No, no, no,' like, 'You don't get it. Like, how old are you?'"
"'Who's saying no?' Myers asked Lawson."
"'Terry,' Lawson replied."
"'He's [Bean's] like, "We can't do this [have sex] unless you tell me how old you are. Unless you really tell me how old you are,'" Lawson said. 'And then, the kid's like, "Oh, OK. I get it. I'm 18.'"
"Lawson was charged alongside Bean with having sex with the young man. (Charges against Lawson were also dismissed Sept. 1.)"
"The young man, whose name WW is withholding because he's the alleged victim of a sex crime, spoke to [police detective] Myers on July 26, 2014."
"'Was it your impression that, that the, the older person [Bean] or the younger person [Lawson] knew that you were under 18?' Myers asked."
"'Yes,' the young man said.
"Prosecutors said the young man's description of the evening, which he repeated in front of a grand jury, was key to the indictment. He told his story a third time in an Aug. 13, 2015, interview with Lane County chief deputy district attorney Erik Hasselman."
"'The victim confirmed with me that his testimony to that grand jury 'was truthful,' Hasselman said in a statement."
"Yet the alleged victim refused to testify in court—fleeing his home in San Diego with his mother via Amtrak, renting a car in Oregon, and purchasing 'burner' cellphones, in what prosecutors described as an effort to run out the clock on a subpoena."
"His flight followed an offer by Bean to end the case with a so-called 'civil compromise,' in which Bean would pay the young man $225,000 and avoid a criminal trial. Bean also agreed to be tested for sexually transmitted diseases and share the results of that test with the young man's attorney."
"The judge rejected the proposed compromise. The alleged victim's subsequent refusal to testify left the case in limbo: The judge dismissed charges, but prosecutors could file again if the alleged victim changes his mind."
---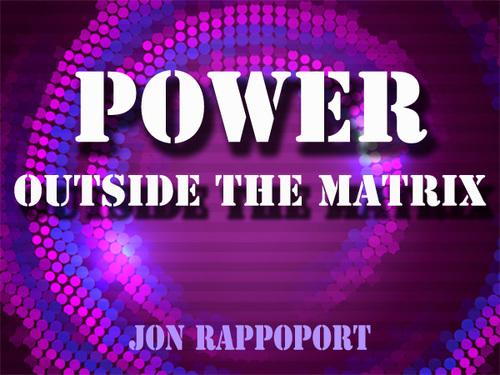 (To read about Jon's collection, Power Outside The Matrix, click here.)
---
I'll close with this. At some point in time after the alleged sexual contact between the boy and Terry Bean (if we assume it happened), the boy became aware that the man he had sex with…knew the President of the United States, Barack Obama.
Imagine it. The boy has sex with an older man he doesn't know. Then he discovers the older man knows the US president.
A criminal case develops. The boy is called on to testify against a man who knows the president.
Could this explain the boy's absolute refusal to get on the stand and tell his story?
Jon Rappoport
The author of three explosive collections, THE MATRIX REVEALED, EXIT FROM THE MATRIX, and POWER OUTSIDE THE MATRIX, Jon was a candidate for a US Congressional seat in the 29th District of California. He maintains a consulting practice for private clients, the purpose of which is the expansion of personal creative power. Nominated for a Pulitzer Prize, he has worked as an investigative reporter for 30 years, writing articles on politics, medicine, and health for CBS Healthwatch, LA Weekly, Spin Magazine, Stern, and other newspapers and magazines in the US and Europe. Jon has delivered lectures and seminars on global politics, health, logic, and creative power to audiences around the world. You can sign up for his free NoMoreFakeNews emails here or his free OutsideTheRealityMachine emails here.