Find your moment: something I said during a conference lecture
by Jon Rappoport
August 18, 2016
(To read about Jon's mega-collection, Exit From The Matrix, click here.)
Two years ago, at a lecture in California, I veered off into a subject I often address: the audience.
I began talking about the people in the hall, to the people in the hall.
I said: "I'm selling you to you."
Because you are the point. The whole point.
This is especially so when you run full-speed into a moment, a moment when you know what you want to do—and you want to do it with all your energy.
That's a threshold. That's a line. Cross it and you'll never be the same.
This isn't a moment that prints an ironclad guarantee of smooth passage for the next 20 years, or a brand of conventional success. This is a moment that allows you to see and feel your present and future in the way you see and feel during a dream at night, when you leave the ground and fly.
It's that moment.
What you've thought and considered in the past makes no difference. It no longer has a hold on you.
The gravitational pull of ordinary things is gone.
Standing at your window at 3 in the morning and looking out at the world, you're in the moment when you've just answered the question, "What do I want to create?"
Your blood is alive, your endocrine output is rising, your mind is on full alert, and your imagination is soaring.
No one and nothing outside yourself is making the moment. This is you being you to you.
You decide.
You cross the threshold. You launch the adventure.
Suddenly, a host of nagging problems is dissolving. You're out ahead of them, on a frontier where every meteor in a cascade of meteors is a new possibility.
Everyone, in his life, has at least one of these moments.
---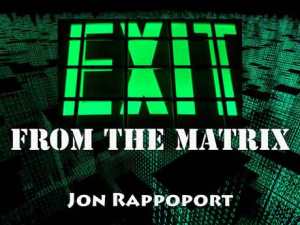 ---
You're experiencing the arrival of a symphony in a landscape that, was, previously, one note repeated over and over.
Everything in this world seems to have been built to accommodate you letting the moment go by and returning, halfheartedly, to the structure within which you were operating.
But you know more, now. You know much more.
What you know isn't based on information.
It's based on insight that has no dialectic or pattern.
It's your moment.
No one can take it, or erase it.
Except you.
Is it another postponement? Or the grand beginning?
Jon Rappoport
The author of three explosive collections, THE MATRIX REVEALED, EXIT FROM THE MATRIX, and POWER OUTSIDE THE MATRIX, Jon was a candidate for a US Congressional seat in the 29th District of California. He maintains a consulting practice for private clients, the purpose of which is the expansion of personal creative power. Nominated for a Pulitzer Prize, he has worked as an investigative reporter for 30 years, writing articles on politics, medicine, and health for CBS Healthwatch, LA Weekly, Spin Magazine, Stern, and other newspapers and magazines in the US and Europe. Jon has delivered lectures and seminars on global politics, health, logic, and creative power to audiences around the world. You can sign up for his free NoMoreFakeNews emails here or his free OutsideTheRealityMachine emails here.