Surveillance State: covert revolution
by Jon Rappoport
July 4, 2014
"If you or I had a pot full of money and set out to help a community become more prosperous and self-sufficient, we could find a way. When big government steps in with its money, the objective is different—it's to appear to help, while actually demeaning and reducing everything in sight…
"Ever wonder why so many law-enforcement types, government bureaucrats, and corporate worker bees are control freaks? Do you think it's just the result of their job training? Think again. There is a selection process. These people are chosen up front, because psych evals identify them as 'right' for the work they'll do. The plan is for the new society to be run by the pod people." — Jon Rappoport, The Underground
The Surveillance State aims to profile every human in the United States. This profile will include a psych eval.
The eval, plus psychological tests will be mandatory for all government employees, including public school and college teachers, counselors, and wall-to-wall bureaucrats.
The objective? To qualify those people to judge the rest of us.
In other words, they will be the Normals, and we will be viewed as the Freaks.
These new government arbiters will also be selected on the basis of their feeling like put-upon victims.
Given new powers, they will have a field day.
I'm talking about a cultural revolution that turns things inside out and reverses vectors.
It's already happening, of course, but the intensity is expanding.
Here is the view from the top: install "the underclass" as the officials who will run and police day-to-day society.
Make a list of every real or imagined victim group you can think of. From these groups, the millions of clerks and bureaucrats who operate the levers of intrusive public life will be chosen.
They are the natural allies of big government.
"Never had a chance to wreak revenge on the people who are holding you down? Come see us for an interview. We may have a position for you. We'll give you a test, put that together with a profile we've already assembled on you, and voila…you could be working in an office tomorrow, collecting a paycheck, receiving benefits, and dropping the hammer on anyone who has an independent or errant thought in his head…"
Big government wants to make more and people poor and dependent, yes. But beyond that, the plan is to "rescue" them and give them power in government jobs.
"Look, we've assembled psych evals on 300 million Americans. Here are the ones we've identified as troublesome. Guess what? They're the folks who don't like you. But now you're working for us, the government. So we're setting you loose. Go after them, find a reason to harass them, block them from getting ahead…"
Make no mistake about it, there are ways to make poor nations, from which immigrants are flooding into the US, far more prosperous—just as there are ways to make poor communities inside the US prosper. But those ways are verboten. Instead, big government, despite its pronouncements, is intent on exacerbating poverty and dependence.
Gradually, the difference between receiving government benefits and having a government job will be completely erased.
Freedom of the individual? Never heard of freedom or the individual.
The Bureaucratic Society is shaping up before our eyes.
The Surveillance State is the framework within which this goal can be accomplished, by the use of psych profiles and evals, which are filters used to separate the "put-upon people who thirst for power" from everyone else.
If you think all this is too crazy to be true, go to publicintelligence.net and read the report, "Identity Dominance: The US Military's Biometric War in Afghanistan." The program involves securing extensive background information, including "threat potential," on every single human in the country.
---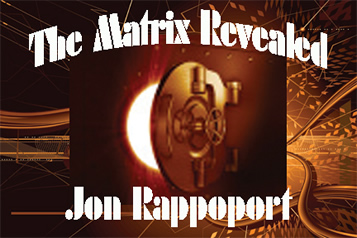 ---
With a shift of target, such a program could be transferred back home to the US, where it would mesh with NSA operations to achieve the same goal.
Have another look at the 1974 film, The Parallax View. Reporter Joe Frady infiltrates The Parallax Corporation, which carries out assassinations on contract. Frady has to pass a series of psychological tests to win a job as a killer for hire. He has to present himself as a violent man with an axe to grind.
His recruiter, Jack Younger, spins Frady the following sales pitch: "Your tests suggest that you have remarkable talents…has it ever crossed your mind that it's everybody else's problem that they don't get along with you?…the very quality that gets you into trouble makes you potentially invaluable…your aggressiveness."
Imagine the same kind of build-up used on 30 million prospective petty bureaucrats:
"We want you to be a little angry. You deserve to be resentful. We consider that a plus. It makes you better at your job. You'll have an edge. All the people who see you as a loser? They're the freaks. This is your chance to work for the government and put them in their place. This isn't the old government. This is new. This is a revolution. The people who were on the outside are now inside. You're one of ours. We know how valuable you are…"
Translation: "We engineered society to create millions of people stuck in material and psychological poverty. Dependent. You're one of those. Now we need employees to run this wall-to-wall welfare state and corral the 'independent ones.' We've let you soak in misery and suffering for a while, and now we think you're ready to make other people follow the hundred thousand rules and regs we've set up…"
Jon Rappoport
The author of three explosive collections, THE MATRIX REVEALED, EXIT FROM THE MATRIX, and POWER OUTSIDE THE MATRIX, Jon was a candidate for a US Congressional seat in the 29th District of California. He maintains a consulting practice for private clients, the purpose of which is the expansion of personal creative power. Nominated for a Pulitzer Prize, he has worked as an investigative reporter for 30 years, writing articles on politics, medicine, and health for CBS Healthwatch, LA Weekly, Spin Magazine, Stern, and other newspapers and magazines in the US and Europe. Jon has delivered lectures and seminars on global politics, health, logic, and creative power to audiences around the world. You can sign up for his free emails at www.nomorefakenews.com