by Jon Rappoport
September 7, 2022
(To join our email list, click here.)
(This article is Part-1 in a series. For Part-2, click here.)
Since there is current discussion about the concept of "mass formation," as it relates to "the pandemic experience," I thought I'd make some comments.
The concept of mass formation is an intellectual castle in the air.
It purports to explain both manipulators and their human targets in the "pandemic years."
Mass formation refers to some sort of mass hypnotic state of mind. As if a cloud, a mist, a transmitted signal. Birthed within a few hundred million or a few billion minds…whoosh. And its basic message is: YOU WILL OBEY YOUR COVID LEADERS. AND IF YOU'RE A LEADER, YOU'LL BE A TYRANT. Something like that.
Uh huh.
But in fact, we can simply say: there are people who do bad things to other people. When these evildoers are in charge, they do VERY BAD things. Like maiming, killing, illegally imprisoning, bankrupting.
There is no psychological mass formation of anything involved there.
A vaccine is killing and wounding huge numbers of people? The guilty parties are obvious. The vaccine manufacturer, the agency that authorized the vaccine (FDA), the government officials who laid on mandates, and so on…
And the doctors who give the shots or order them.
Where is the mass? Where is the formation? Nowhere.
Then we have the population of the world, assaulted with lies and lockdowns and killer medical treatments and false diagnoses and financial ruin, and so on.
Are these billions of people themselves forming some kind of mass in any literal sense? No.
Are most of them NOT resisting the oppression? That would be correct.
Is that a problem? Yes.
What kind of problem?
It's not very technical. It's called surrendering to fear. Fear of predators who have state power.
Am I therefore "blaming the victims?"
First of all, I don't particularly like the term "victim." To me, it implies a person can't do anything about the people who are coming down on him like a ton of bricks.
I refuse to say that or believe it. And history proves so-called victims have fought for and won freedoms against stunningly long odds. MUCH longer odds than what we've been facing these past 2 years.
So let's not bullshit ourselves about billions of recent victims who couldn't rise up.
Every person can resist oppressors, and if necessary, die in that struggle.
Do I criticize people for failing to resist oppression? Well, gosh o gee, I do. Yes. I plead guilty to the crime of failing to be polite.
Do I realize different people have different limits on how far they will go to win their freedom? Yes.
OK. So…as far as the world population is concerned, where is the mass or the formation? Nowhere.
Are there exceptions to what I've written so far in this piece?
Here's one. As I've reported for years, over and over, people across the world are being treated with massive amounts of destructive medical drugs. Toxic drugs. By doctors who are violating their oath every day.
These drugs, among other numerous effects, weaken the mind and scramble thought processes. You could call that a "mass formation," if you were quite specific about what you were referring to.
But what about this: all of a sudden, two years ago, in response to a government declared state of emergency, and mandates, thousands and millions of people suddenly showed up everywhere WEARING MASKS.
This certainly looked like a mass phenomenon. Boom. Masks. People wearing them wherever they went.
There was an easy temptation to call that spontaneous mass formation.
I was somewhat less technical about it at the time. I said, who are all these fucking idiots wearing masks?
After further pondering, I came up with this amazing revelation. Each day, EACH INDIVIDUAL put on his stupid mask, INDIVIDUALLY.
And so when I went to the market and saw all these people wearing masks, although that was a compelling visual presentation, every one of those people had INDIVIDUALLY donned his/her mask.
It wasn't really a mass phenomenon.
"Mass formation" is simply one of thousands of high-falutin terms academics feel compelled to come up with, because otherwise they've got nothing.
They can't just talk about what's going on in the world and who's doing what to whom. That would be below them.
Plus, describing actual killers in high places would put them in deep shit with the people who are bankrolling the colleges they work at.
Yes, there is that.
Therefore, much better to bloviate endlessly and invent intellectual garbage which is adored by an "educated audience."
As a result, that audience fails to face the bottom line: killers are just killers and dead bodies are people the killers killed.
PS: As I blithely stroll across those dead bodies on my way to the Post Office, I'm simultaneously submitting this article as my PhD thesis to Harvard, Yale, Princeton, and the Sorbonne. When they get back to me with their enthusiastic confirmations, I'll post screen shots of my diplomas. DOCTOR JON.
I'll ditch my barber for a hair stylist, buy a few splendid suits from a British tailor, and start showing up at conferences with lots of psychological and philosophical gas to dispense to large audiences.
Now THOSE will be mass formation events.
---
(Episode 22 of Rappoport Podcasts — "How Biden Used His Bully Pulpit Thursday" — is now posted on my substack. It's a blockbuster. To listen, click here. To learn more about This Episode of Rappoport Podcasts, click here.)
---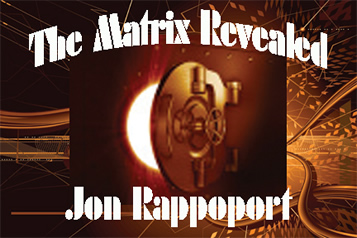 (To read about Jon's mega-collection, The Matrix Revealed, click here.)
---
To read Jon's articles on Substack, click here.
---
Jon Rappoport
The author of three explosive collections, THE MATRIX REVEALED, EXIT FROM THE MATRIX, and POWER OUTSIDE THE MATRIX, Jon was a candidate for a US Congressional seat in the 29th District of California. He maintains a consulting practice for private clients, the purpose of which is the expansion of personal creative power. Nominated for a Pulitzer Prize, he has worked as an investigative reporter for 30 years, writing articles on politics, medicine, and health for CBS Healthwatch, LA Weekly, Spin Magazine, Stern, and other newspapers and magazines in the US and Europe. Jon has delivered lectures and seminars on global politics, health, logic, and creative power to audiences around the world. You can sign up for his free NoMoreFakeNews emails here or his free OutsideTheRealityMachine emails here.